A Basic Guide to Office Lighting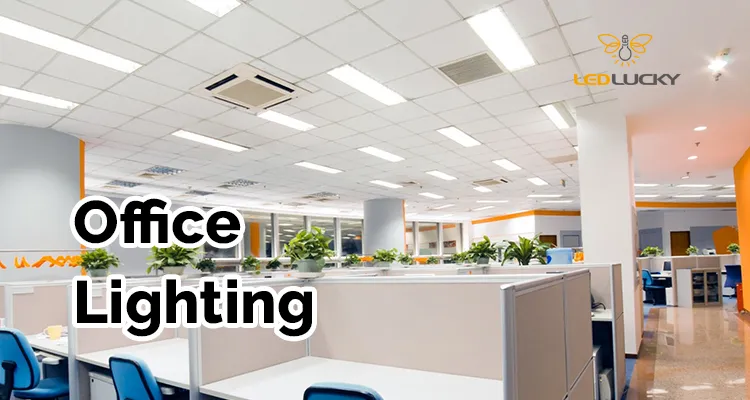 Office lighting is essential for the productivity and safety of your employees. An office with poor lighting will not be successful as employees will have a challenging time working.
Whether you are creating a new office space or want to upgrade their office lighting of your existing office, you cannot overlook the importance of good lighting.
In recent times, office lighting and energy standards have changed. Without comprehensive knowledge, there will be a lot of confusion. To help you make the correct decision, we have created this office lighting guide.
So, let's dive in!
How Does Office Lighting Impact Employees?
Before we can move onto the office lighting guide, you must know the importance of a good office lighting solution.
It is no surprise that the environment of your office has a direct impact on the productivity and performance of your workers. Lighting is a quintessential part of the work environment. This is because it affects the concentration level of employees. Not only this, but it also impacts the satisfaction level and health of employees.
According to studies, employees don't tend to work in an office where their performance, health, and well-being is adversely affected.
Poor lighting in an office can cause various health problems like put strains on eyes and headaches. This is because employees will have to try hard to focus on work. There is also a chance that nothing will be visible clearly, making it will be difficult for the employees to see and concentrate. It will impact their productivity as they will not be able to work efficiently.
Hence, it is crucial to have a well-designed lighting plan so employees can work at their best level.
Standard Requirements of Office Lighting
Now that you are aware of the challenges faced by employees in poor office lighting, here are some recommendations for you.
Energy-efficient and flexible– One of the most important requirements for office lighting is that it must save energy and be flexible. This means the light should not waste energy and increase expenses. Also, every employee has a different task to deal with. The employees require a balance between indirect and direct lighting.
Suitable for all types of requirements– In an office space, employees have different tasks, meaning that they have different lighting usage and requirements. It is crucial for office lighting to brighten up space according to the visual tasks.
Every work environment requires a specific amount of light so that workers can perform efficiently. According to the office lighting standards, a workstation must require at least 500 lumens per square meter.
In simple words, it means that a cubicle of 6" x 6" will require the same amount of light offered by a 35-watt incandescent light. The best lighting solution for your office is LED ceiling light. When designing a lighting layout, you have to make sure space is evenly lit up.
It is important to keep in mind the shadows cast by the partitions or cubicle walls. You must ensure that the problem areas minimized.
If you need help with the layout of office lighting, you can contact experts at LEDLUCKY.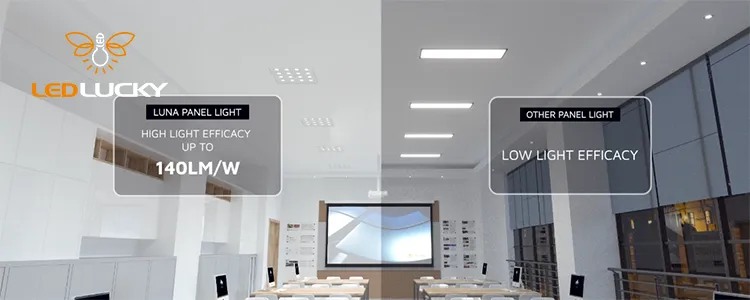 Things To Consider When Deciding The Office Lighting Layout
There are a plethora of things that you need to take into consideration when the office lighting. Here are some of the questions you must ask yourself when illuminating the workspace.
Should you use glare and flicker-free light?
Will this lighting layout be adequate to light up the office?
Is there a balance between indirect and direct light?
Is the chosen light suitable for the visual task?
Which color of light you should use? (neutral white or warm white)
Can you adjust the intensity of the light individually?
Should you avoid distracting reflections and glare?
Reasons To Choose LEDLUCKY For Office Lighting
When it comes to selecting the best LED office lights, there are hundreds of options, if not thousands. This makes it challenging, confusing, and frustrating to choose the right ones.
LEDLUCKY is a leading supplier and manufacturer of LED lights, offering a wide range of products. Wondering why it is an ideal choice? Here are some of the reasons to get LED office lighting from LEDLUCKY.
Having more than 10 years' experience in providing unique and innovative LED lights for office, LEDLUCKY is a top manufacturer and supplier of LED lights. The best thing about LED lights is that they are designed and developed using the latest technology.
Besides this, the LED lights can be customized to suit different needs and requirements. This makes it an excellent choice to install LED lights no matter the environment. The LED lights can be installed in all types of workstations.
2. Excellent Control System
Another reason to choose LED light from LEDLUCKY is the control you get over the lighting system. LED lights have motion, daylight harvest, microwave sensors along with other dimming options. This means you can adjust the intensity of the LED lights without any difficulty.
LED lights are energy efficient. This means they will not consume plenty of energy. It is because LED lights have bright chips and less energy is required for illuminating the room. So, LED lights will help save 50% on energy costs.
With the help of Dialux simulation, you can have the right lighting design for your office. We have been using this software to offer exceptional services to all our customers and make sure their lighting requirements are met.
LED lights are capable of preventing glare thanks to its advanced and innovative system. Glare can cause irritation and discomfort for the employees. It will also restrict their productivity as they will not be able to focus on their work. LED lights have an anti-glare design.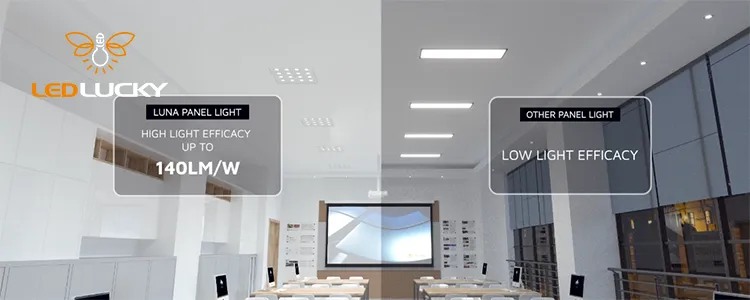 You can have peace of mind that the LED lights come with a warranty. You don't have to worry about anything.
We hope this guide will help you choose the right office lighting. LEDLUCKY is an ideal choice for buying LED lights. We have a broad collection of LED lights that can be installed anywhere. For browsing our collection of office lighting, kindly visit our website.
See the LED Panel Light
Don't hesitate to tell us about your needs