Alpha is a new generation of high cost-effective LED sports lights. Adopting modular design, high-power LED sports lights with power between 300W and 1500W are composed of 1-5 modules.
Alpha has designed a variety of professional symmetrical and asymmetrical light distributions to meet the lighting standards of multiple occasions such as indoor and outdoor professional and training-level stadiums, outdoor parking lots, squares, and docks. The lens is made of professional-grade high-transmittance PC material, and the luminous efficiency is up to 145lm/W.
270° overall adjustable (6 degrees per scale). A single module can be rotated by ±30 degrees.
The unique heat sink design can speed up heat dissipation.
Lighter weight heat sink (the 1200W module is only 19.8kg (without driver)).
Passing the 1.5G vibration test requirements of GB24827-2015, suitable to be used in docks, bridges and other places.
Stainless steel Anaconda Conduit can be customized.
Tiger powder-coated, passing NSS 500(Neutral Salt Spray test)500h testing.
DMX 512 product solution available.
SAMSUNG 351B:418,
[email protected]
, 251,
[email protected]
, 102,
[email protected]
. Lumileds 5050:157,
[email protected]
, 98,
[email protected]
, 47,
[email protected]
Inventronics driver (Sosen driver optional)
On/Off and 0V-10V and Dali optional
Product Size Chart(unit: mm)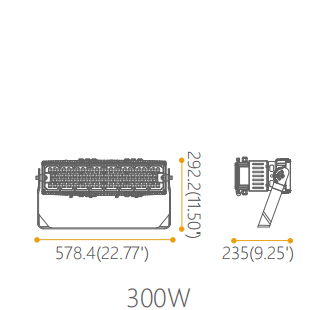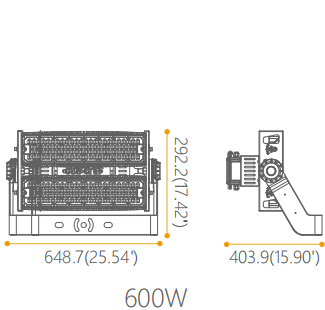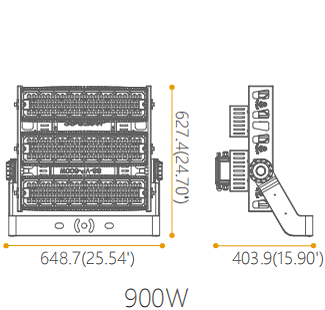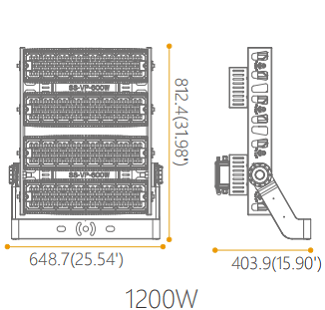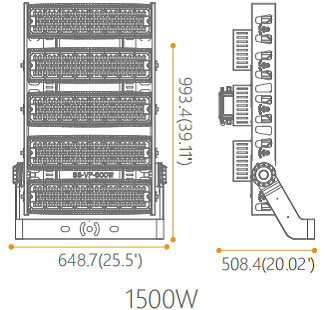 Don't hesitate to tell us about your needs