Direct from Manufacturers - LED Stadium Lights Built for Performance
Are you looking for a lighting solution?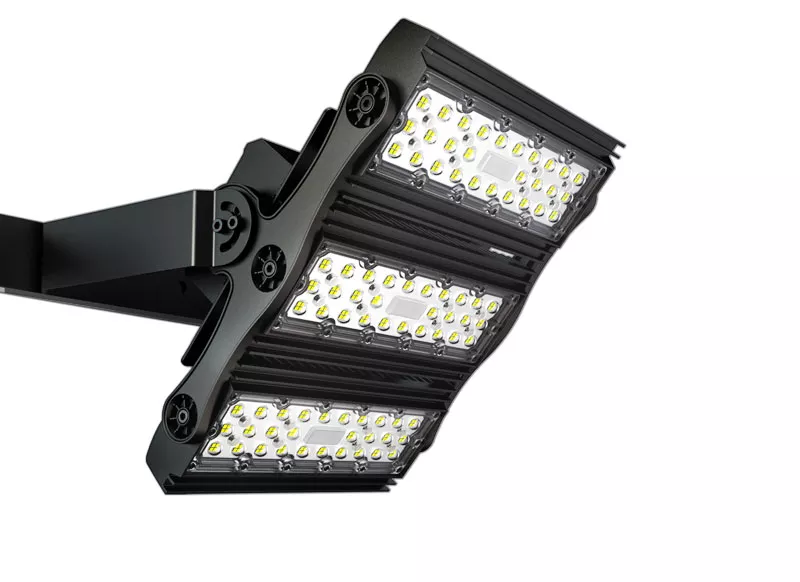 Wide range of lumen output package from 11,000lm up to 130,500lm, 50% less power consumption than traditional light sources.
100W
200W
300W
400W
480W
600W
800W
900W
5488 pcs
2098 pcs
1338 pcs
1271 pcs
1271 pcs
744 pcs
680 pcs
510 pcs
Don't find what you want? Tell us your request.
How your lamps were produced?
INSIGHTS - INSPIRATIONS - VISIONS
As the popularity of sports continues to soar, the demand for high-quality sports field lighting is increasing rapidly. stadium lamps, sports lamps, and arena lamps have become the go-to solutions for sports field lighting due to their superior light levels and energy efficiency.
Whether it's for a football game, a basketball match, or a concert, stadium floodlamps are a must-have to ensure that the action is visible and enjoyable for all spectators. Sports field lighting has revolutionized the way stadiums and arenas are illuminated, providing unparallebrightness and clarity while reducing energy consumption and maintenance costs.
From small community fields to large-scale stadiums and arenas, lighting has become an indispensable feature for modern sports facilities. With their long lifespan and low maintenance requirements, stadium lamps and arena lamps are quickly becoming the lighting of choice for sports organizations around the world.
Intelligent systems, maximum control.
Discover your best lighting solution, the LEDLUCKY.
What is sports lamp?
It's referred to as a lighting fixture designed specifically for illuminating sports fields, arenas, and other outdoor venues using light-emitting diodes (LEDs) as the primary light source.
Advantages of our products.
1. Light Weight 2. Robust Structure 3. High-level Ingress and Impact Protection 4. Remarkable Payback
What is the lifespan of stadium lamps?
The lifespan of stadium lamps varies depending on several factors, such as the quality of the chips, the thermal management system, and the operating conditions.

Generally, high-quality stadium lamps can last between 50,000 to 100,000 hours, which is significantly longer than traditional metal halide or high-pressure sodium lamps that typically last around 10,000 to 20,000 hours.

However, the actual lifespan of stadium lamps can be affected by several factors such as the operating temperature, humidity, and voltage fluctuations. It is essential to choose high-quality lamps and ensure proper installation and maintenance to maximize their lifespan.
How many stadium lamps are needed to light a specific area?
The number of stadium lamps needed to light a specific area depends on several factors, such as the size and shape of the area, the desired lighting level, and the beam angle and distribution of the lamps.

To calculate the number of stadium lamps needed, you can use the following steps:

Determine the size and shape of the area to be illuminated.

Calculate the total square footage of the area by multiplying the length and width.

Determine the desired lighting level in foot-candles (fc) or lux (lx) for the area. This will depend on the activities to be performed in the area, such as sports or concerts.

Choose stadium lamps with the appropriate beam angle and distribution to achieve the desired lighting level. This will depend on the mounting height and the distance between the lamps.

Use a lighting calculator or photometric software to determine the number of stadium lamps needed based on the area size, desired lighting level, and light beam angle and distribution.

It is also essential to consider any lighting standards and regulations that may apply to the specific area.

It is recommended to consult with a lighting professional or an experienced installer to ensure that the stadium lamps are appropriately designed and installed for the specific area.
How do stadium lamps impact energy consumption and sustainability?
Stadium lamps have a significant impact on energy consumption and sustainability due to their energy efficiency and long lifespan compared to traditional lighting technologies.

LED lamps use up to 80% less energy than traditional lighting technologies such as metal halide and high-pressure sodium lamps, which results in significant energy savings and reduced greenhouse gas emissions. This energy efficiency also means that stadium lamps generate less heat, reducing the need for air conditioning and lowering energy consumption even further.

stadium lamps also have a much longer lifespan than traditional lighting, typically lasting between 50,000 to 100,000 hours. This means fewer replacements are needed, reducing waste and minimizing the environmental impact of the lighting system.

In addition, LED lamps do not contain hazardous materials such as mercury, making them safer for the environment and easier to dispose of. They also do not emit harmful UV radiation, reducing the risk of skin cancer and other health problems.

Overall, stadium lamps are a sustainable and energy-efficient lighting solution that can significantly reduce energy consumption and contribute to a more sustainable future.
How to choose?
1. Choose high quality chips and drivers.
2. Choose the proper beam angles.
3. IP rating and surge protection rating.
4. Good heat dissipation performance.
5. CRI.
6. Glare Rating (GR)