Cricket Stadium Lights Ultimate Lighting Design Guide
The Ultimate Guide to Cricket Lighting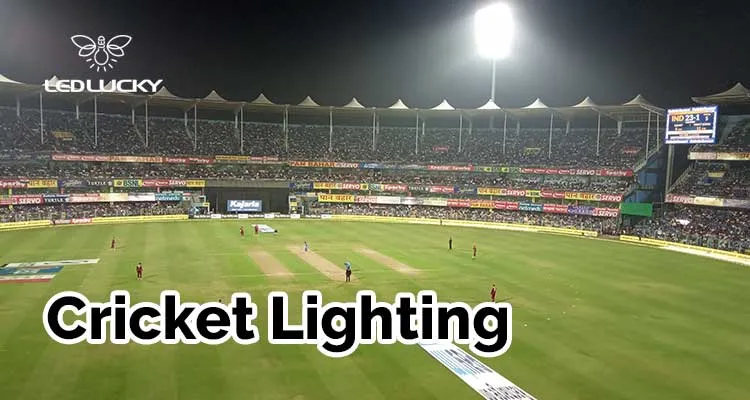 Cricket is one of the most popular sports in the world. It is played in various countries including Britain, Australia, Pakistan, Bangladesh, India, South Africa, and New Zealand. The sport is played during the drier periods of the year as it cannot be played in wet weather. If you are interested in cricket lighting and want to know more about it, this guide to cricket lighting aims to provide you with all the information that you could possibly need.
1. What Is Cricket Stadium Lighting?
When it comes to cricket lighting, LED lights are the preferred choice. Cricket lighting helps ensure that the stadium is well illuminated so that the players can play the sport with ease. It provides complete coverage to the entire field and does not leave any room for dark spots. The reason why LED spotlights are commonly used is because they are more durable and energy-efficient as compared to other light sources. They are bright enough to light up even the biggest of sporting venues for cricket.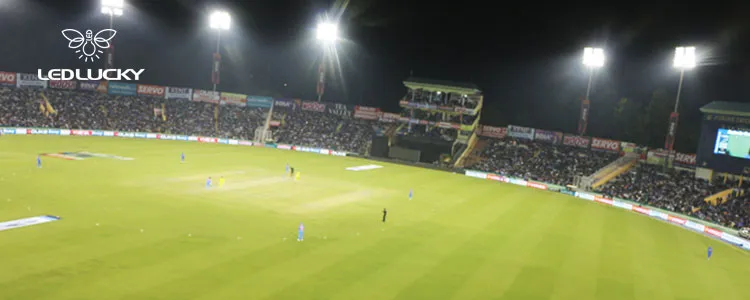 2. Cricket Lighting Standards
To better understand cricket lighting, it is crucial to take a closer look at the standards. There are different standards as set by the International Cricket Council (ICC) as well as practice pitch cricket lighting standards and indoor cricket lighting standards that need to be considered. These are mentioned below.
2.1 International Cricket Council (ICC) Lighting Standards
The ICC is responsible for setting out lighting standards. The ICC Cricket World Cup is hosted by the international cricket council and is one of the most-watched sporting events in the world. It is the fourth largest after the Olympics, FIFA World Cup, and Rugby World Cup.
Based on the requirements of TV broadcast,  it takes about 1500-2500 lux highest standards. And cricket floodlights need to have a color rendering index of more than 90. Only once these standards are met is it possible to ensure color harmony of the television images without any distortion. Since traditional lamps are unable to meet the requirements, LED cricket lighting is the way to go. The following important key points need to be considered for cricket ground lighting.
The high brightness of the venue would allow the batter to hit balls of a speed of 150 mph.
The trajectory of the ball would be covered by the propagation of vertical and horizontal lighting.
Appropriate light source coloring rendering index requirements need to be met for ensuring that a better picture experience is provided to TV viewers.
The light overflow rate has to below.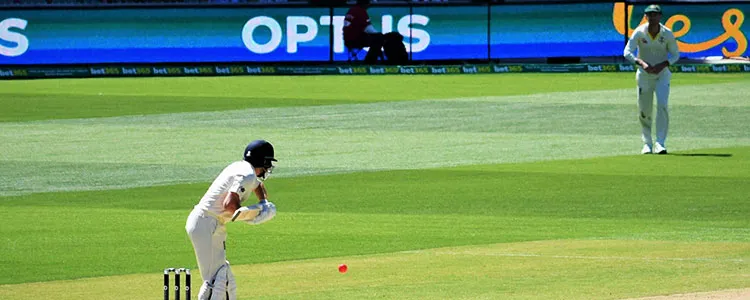 2.2 Practice Pitch Cricket Lighting Standards
Unlike ICC standards, practice pitch cricket lighting standards are much more lenient since there is no need to consider TV viewers. The only goal is to provide sufficient illumination for hitting balls. So it needs about 200 lux.
2.3 Indoor Cricket Stadium Lighting Standards
Indoor cricket lighting standards require more lighting as compared to the above. When considering indoor ceiling lights, heat can be an issue. It is possible for heat to accumulate during the operation of the luminaries. Thus, if the temperatures become too high, it would cause the electronics inside of the floodlights to get damaged. High-end thermal management system has been developed to solve the issue. To allow the heat conducts to leave the system, there are fins that a very large surface area.
The lighting standard version is recommended as below.
Class I: 750 lux or a minimum average uniformity of 0.7.
Class II: 500 lux or a minimum average uniformity of 0.7.
Class III: 300 lux or a minimum average uniformity of 0.7.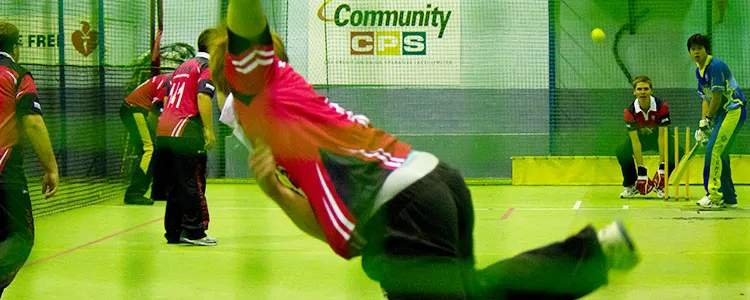 3. Cricket Ground Lighting Design
To improve the performance of cricket stadium lighting, it is important to focus on the cricket ground lighting design. A presentable and precise photometric analysis is required. When designing the cricket ground lighting, the designer might also provide you with isoclines. The following should be considered when working on the design.
3.1 Anti-Glare and Flicker-Free Lighting
For uninterrupted live broadcasting and amazing performance, anti-glare and flicker-free lighting is essential. The lighting fixture needs to have the highest standard. Flicker-free illumination is one of the things that you cannot afford to overlook.
Choose an LED lighting solution such as LEDLUCKY as it supports a high-speed camera of 5,000 to 6,000 Hz. It provides a flickering rate of under 0.3 percent. Thus, the change in the lumen is quite negligible which the camera would be unable to detect. Besides flicker-free illumination, anti-glare is also required to reduce the dazzling effect of the illumination on players and the audience. It would also help reduce light pollution.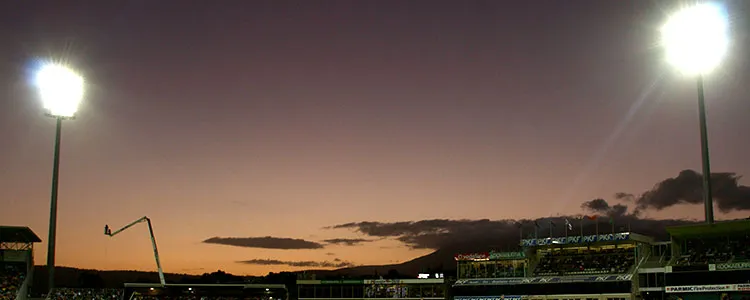 3.2 Uniformity and Lighting Levels
For the ultimate cricket lighting, it is important to ensure better lighting uniformity. There is no excuse for lighting getting too bright or dim all of a sudden. It can leave everyone feeling uncomfortable. This is why it makes sense to purchase the top of the line optics offered by LEDLUCKY to enhance the uniformity value up to 0.8. It would satisfy the requirement of USACA. Another strength that needs to be considered is anti-glare options to ensure uniformity. Since there will be thousands of spectators at the stadium, the lighting has to accommodate them by providing the right lighting level. Low glare luminary would make sure that their eyes do not get irritated and that they enjoy a clear vision of the match. High-speed photography of up to 5,000 Hz is supported by LEDLUCKY cricket lighting.
3.3 Existing Poles Up To Handling the Weight
A common mistake that people tend to make when working on the design of the cricket field is forgetting about whether the existing poles will be able to handle the weight of the lights. Generally, the typical design of cricket grounds includes a 4 pole design. As for televised play, 6 pole designs are required. They will help improve spill lighting control.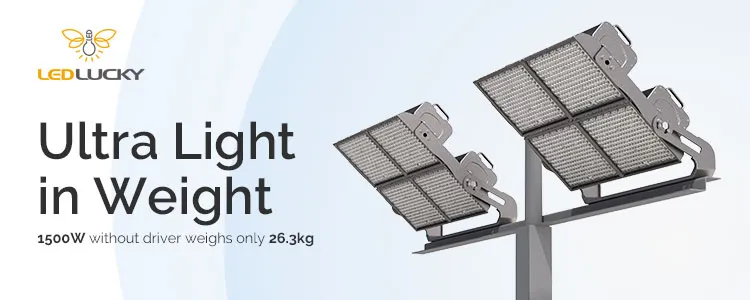 When getting cricket lighting, IP grade is something that you cannot afford to overlook. Hence, you have to look for lighting that offers the latest IP grade options. It will help ensure that the lighting is durable enough to withstand tough conditions.
Finally, the warranty also has to be taken into account. Choose a company like LEDLUCKY as it offers a higher warranty as compared to other companies. Its lighting solutions offer higher quality and provide superior performance. Make sure that there is enough warranty for the entire duration of the lighting or at least half of its life. It will allow you to save up on maintenance costs.
4. Indoor Cricket Lighting Design
If you want to learn more about indoor cricket court lighting design, you have to keep in mind that it has to appeal to a wide audience with various abilities. Since cricket is a fast sport, the design needs to ensure that the participation of all athletes is maximized.
4.1 Glare Control of Lamps
Glare control of lamps is required to reduce the glare for viewers and participants alike. It is important that a normal line of sight is maintained through a reduction of glare. This is why you need lighting that offers glare control options.
4.2 Heat Dissipation Design
When installing ceiling lights, heat is something that you cannot forget. It tends to build up during the lampwork. Now, if the temperatures get too high, the floodlight would get damaged. Hence, select lighting fixtures that suit indoor cricket court lighting.
The lighting equipment you choose needs to provide simple control and should ensure flexible operation. The use of unused courses or courts can be prevented through simple zoning. The controller can also be used to darken the area or turn off the lights in case daylight is sufficient. It will help reduce energy bills and overall operating costs. Lamps that provide an efficient control system should be considered.
4.4 Lifespan and Maintenance
When getting cricket lighting, you also need to check the lifespan of the lighting and maintenance. New lights may cost a lot of money but you have to determine how long they will last before you replace them. In addition to paying for the new lights, you will also need to pay for installation. This is why you should get lighting that has a lifespan of 100,000 hours. It means that if the lighting is turned on for 6 hours each day, it will last you around 36 years. This makes it a great option as compared to halogen lamps that have a lifespan of 1,000 to 2,000 hours or even metal halide lamps that only offer a lifespan of 5,000 to 10,000 hours.
5. Cost of Cricket Stadium Lighting
Finally, the cost of cricket stadium lighting needs to be considered. If you select the wrong type of luminaries, you would end up having to spend more. Expect to spend around $35,000 to $70,000 for cricket stadium lighting.
Once you have gone over this guide, you will know everything about cricket lighting. Make sure to choose a company like LEDLUCKY for a stress-free experience.
See the LED Cricket Lights:  ArenaSharp S LED stadium light
Thanks for reading. We also provide other LED lights as while. Click the below link to view if you are interested.
Don't hesitate to tell us about your needs