LED Horse Arena Flood Light Choice Guide
An Extensive Guide to Horse Arena Lighting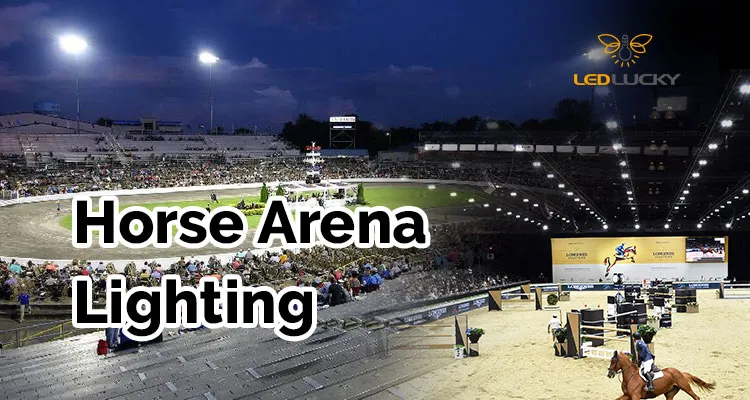 Horse LED arena flood lighting is nothing like lightening up stadiums. It is more challenging and confusing if you don't have comprehensive knowledge. This is why you should expert help before installing lighting. If the lighting setup is not right, it can be too dim or bright. Besides, it might even pose a threat to the safety of animals and rider. It can also cast shadows.
And in case you installed the wrong lighting, replacing them will result in wasting hundreds of dollars. That is why quality lighting is imperative for brightening up the horse arena. Having trouble installing the right lights for your equestrian facility? Don't worry, we are here to help you.
In this post, we have created a complete guide for brightening up your horse arena.
Requirements for Indoor Horse Arena Lighting
If you have an indoor horse arena, the LED flood light lighting requirements will be different. Certain aspects require your utmost attention. One of the aspects is lighting. In an enclosed arena, there will be no source of natural light, so you will be relying on lighting for illuminating space. This is why it is important to have proper lighting for the arena.
The first requirement of indoor lighting is the color temperature. It must be around 5500K as it is closer to sunlight. The light with this color temperature provides high contrast. You must make sure LED lights are flicker-free. If the light is flickering, then it might cause several problems- poor spectating experience, discomfort, irritation, and might turn away people. So, it is advised to install LED lights to improve the experience for everyone.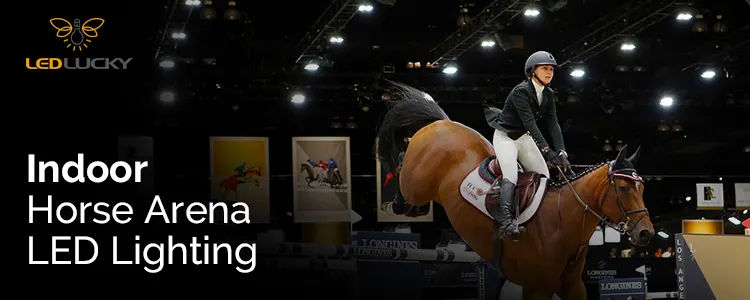 Lighting Requirements for Outdoor Arena
For the outdoor horse arena, there are different concerns. Of course, you will not need lights during the day. But when the sun goes down, you will require a good lighting solution. LED lights are the best choice for outdoor horse arena lighting.
This because LED lights will limit light pollution in comparison to conventional lighting. The problem with traditional light sources is that it doesn't provide the right color temperature. Such lights use more energy and must be replaced often.
To resolve these problems, you need to install LED lights. By installing LED horse arena lighting, you will be able to save on energy bills and maintenance costs. This lighting has a lifespan and wide-ranging color temperature. It will save money and enhance your riding experience.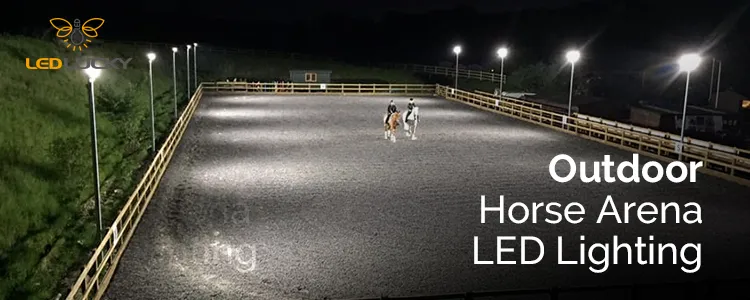 Top Reasons to Install LED Flood Lights in Horse Arena
Lighting is important for lightening up the horse arena. For a long time, traditional lights were used for brightening up equestrian facility. Nowadays, LED lights are becoming a popular choice. There are plenty of reasons for it. Here are some of the most compelling reasons.
1. No Warmup Time Is Required
A great feature of LED lights is that they don't waste energy. This because they require no warmup time. LED lights can instantly turn on and off. It is the best reason to use such lighting for the horse arena. This provides you complete control over the lighting system.
2. LED Lights are Bright and Better for Safety
One of the main reasons to install LED lights for everyone's safety. LED lights are brighter than conventional lamps. This will brighten up the whole arena and makes sure your facility is safe. In addition, LED lights are safe for horses as well as it will not cause any discomfort. This will help in keeping them happy.
Furthermore, LED light in the riding area will increase the riding time of riders. Eventually, it will get you more income.
3. Saves Energy and Costs
LED lights are known for being energy efficient. This is because they will consume less energy and provide bright light by using less power. It is useful for decreasing the cost of electricity, making it more affordable to operate the equestrian facility.
The LED lights are glare-free. This means they will not make anyone uncomfortable. The glare from lights can bother the animals, which can adversely affect their performance. So, you must make sure the lights are glare-free.
LEDLUCKY offers quality glare-free LED lights for illuminating your horse arena.
This feature is important for horse racing. Let's face it, horse racing is one of the oldest and interesting sport. There was a time when there were only outdoor arenas and horse races took place during the day. But now, there are indoor arenas as well and races take place after sunset.
So, good lighting is crucial for spectators, riders, and horses. If the light flickers, then the camera will not capture the moment properly. This is why it is advised to install LED lights. It can support up to 6000 to 10,000 HZ slow-motion camera.
6. Low Maintenance and Operational Cost
Operating an equine arena is not easy. The energy cost is a lot to bear. To reduce the operational cost of the horse arena, you need to install LED lights. Without a doubt, initially LED lights are expensive, but over time, it becomes affordable.
This is because with LED horse arena lighting you can save up to 75% energy consumption. It leads to saving costs on the energy bill. Moreover, the LED lights have a long lifespan. This will reduce the costs of maintenance and rebates.
7. Enhances Riding Experience
Another reason to choose LED lights is that it will improve your riding experience. Since LED lights will illuminate the whole area, everyone will be able to see clearly. It will not cause any irritation so people will not drive away.
Horse Arena LED Flood Lighting Design
Having the right lighting design for the horse arena is important as it will directly impact the health of the horses. The lighting must be just perfect. Not too low that it will adversely affect the vision of the animals nor it must be too sharp that will hurt animals.
The health of your horses is crucial. You have to make sure they are happy. The environment you keep them has a huge role to play in keeping them healthy. If the light doesn't irritate or cause any discomfort for the animal, it will be easy to do routine checkups. This will even eliminate the need to take them to a different location.
Here are some things you need to focus on when determining the lighting design.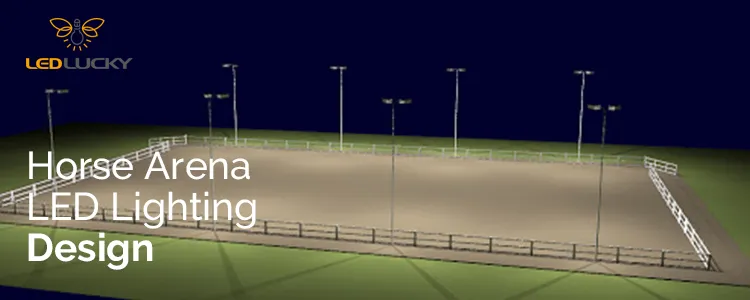 1. Photometric Analysis for Lighting Design
No one-size-fits-all horse arena. Every arena is unique and has different lighting requirements. This is why it is advised to get professional help. The experts at LEDLUCKY will help you know the right lighting for your horse arena using photometric analysis.
With the help of photometric analysis, you can have a clear idea about the minimum footcandles, the brightness required, and the arrangement of the poles. It will enable experts to evaluate the arena and determine the right light levels, fixtures, and other things. This analysis helps in saving costs by limiting extra cost and even reduce the risk of insufficient light.
2. Arrangements of Pole Lighting
The first thing you need to focus on is the pole lighting arrangement. Here are the guidelines for wooden poles:
For 250 W light, the height must be no more than 20 feet.
400 W light is good for 20 to 30-foot height.
For a mounting height of more than 30 feet, you will need 1000 W light.
The wooden poles are not suitable for an upscale horse arena. So, you should have commercial lighting poles and fixtures. This is because it will provide a refined and more sophisticated appeal to your facility.
3. Brightness Requirements for Horse Arena
Another thing requirement of horse arena lighting is the lux. The lux requirement varies with the level of competition. For training or recreational purposes, you might need around 250 lux. This is more than enough for providing the rider and horse enough brightness to see clearly.
A challenging task is to know how many lumens you need to light up the arena. For every 100 square meters of field, you must have 100 x 250 = 25000 lumen. This is equivalent to 180 W LED light.
For tall poles, you will have to install LED lights that have high power and more lumen output.
Hence, quality horse arena lighting is critical for keeping your animals safe and healthy. Proper lighting will make sure your facility is safe and enable riders and spectators to see everything clearly. LEDLUCKY is a leading supplier of premium LED lights for all types of fields.
See the LED Flood Light
Thanks for reading. We also provide other LED lights as while. Click the below link to view if you are interested.
Don't hesitate to tell us about your needs