Volleyball Court Lighting – Volleyball Lamps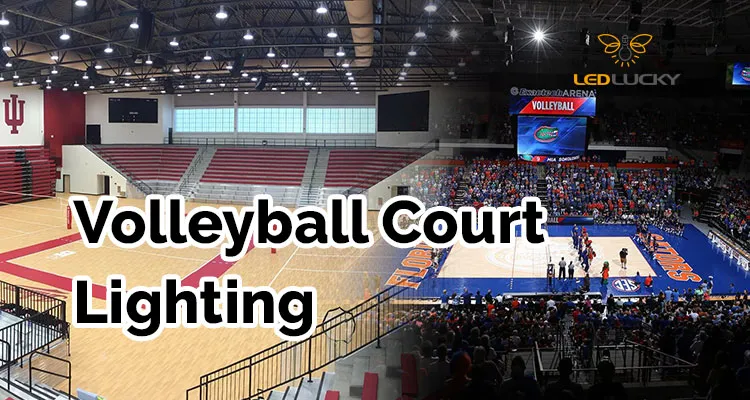 Volleyball is a competitive sport with high technical and physical performance. Many people are hopping on the bandwagon of volleyball. There was a time when it was played on the beach. In recent times, this sport is being played both indoors and outdoors. Whether you play it on a court or beach, lighting is an important element of this sport.
The lighting requirement of the volleyball court is different. This can be confusing and frustrating. To help you have good lighting for your volleyball court, here is a guide to volleyball court lighting.
Volleyball Court Lighting Requirements
The lighting of the volleyball court is extremely crucial for enhancing the performance of the players. If the lighting is not proper, the players' vision will be adversely affected. Additionally, the spectators will not be able to see what is happening on the court. So, proper lighting is important in a volleyball court.
There are several factors you need to consider when installing volleyball court lighting. The most important requirement is the brightness.
The dimensions of the court are 30 x 60 feet. The height of the net is 7 feet 11 5/8 inches. When it comes to the lux level, it depends on the nature of the match. For low-level or recreational competitions, you might need 75 to 200 lux level. For a professional match, the required lux level is 500.
Light uniformity is another factor that you should focus on when installing stadium lighting. The required level of uniformity for recreational matches is 0.5 while 0.7 for professional matches.
For more information regarding the lighting requirements of a volleyball court, feel free to contact LEDLUCKY experts.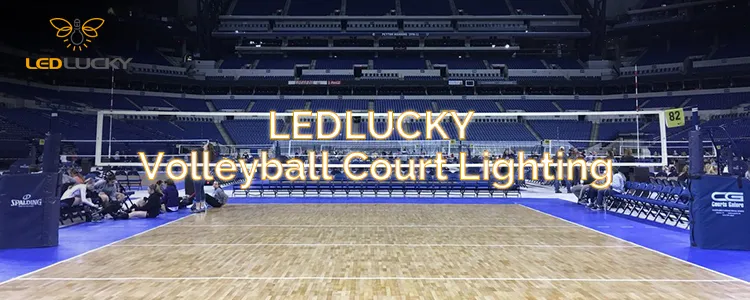 Reasons Why LED Lights Are Perfect for Volleyball Court
One of the reasons for installing LED light is that it is flicker-free lighting. This is useful for matches that will be broadcasted as it will make sped photography hassle-free. LED lights support approximately, up to 6000 HZ filming. It is perfect for fast-paced objects like volleyball.
2. Excellent Photometric Design
Thanks to the photometric lighting design, you can easily see the lighting effect before installing it. There are many software that will help in making a photometric plan for volleyball court. This provides a clear idea of how the court will lighten up before installation. Using the software, you can predict the uniformity and brightness of lighting.
Another reason for choosing LED lights is uniformity. For enabling the players and audience to see clearly, uniform light is crucial. LED lights can distribute light evenly throughout the field. This will make sure players perform well during the match.
It is normal for all types of lights to produce heat. In traditional lights, persistent heat damages the chips, which decreases the life span and brightness of lights. LED lights feature a design that makes them heatproof. The structure of the lights will keep them cool. This increases the brightness and lifespan of LED lights.
5. Have Waterproof Properties
Since LED lights will be used in both, outdoor and indoor stadiums, they must be waterproof. This will enable them to withstand harsh weather conditions. So, LED light is great for an outdoor volleyball court.
What is the Cost of Installing Volleyball Court Lighting?
When it comes to installing LED lights, you have to consider the cost. Everyone is aware of the fact that LED lights are expensive, but they are reliable and efficient lighting sources. The cost of installing LED lights varies with the size of the court. If you need an estimate about the volleyball court lighting installation cost, feel free to contact LEDLUCKY experts.
How Many Lights Should You Install?
To have proper lighting in your volleyball court, you need to focus on the poles required in the field. The courts have different pole arrangements- 4 poles, 8 poles, etc. Not only this,  but the heights of the pole also vary.
If your volleyball court has tall poles, then you will need fewer poles. But you will need high power LED lights for brightening up space evenly. LED lights with high power will be heavy. This can prove to be a problem as there is a weight limit. For safety purposes, you must stay in the weight limit.
According to an estimate, you will need nearly 10 to 20 sets of lights on a pole. In case you use heavy lights, you will need to reinforcement on the poles. Though the cost must be high, it is crucial for everyone's safety.
If you want to know more about the court lighting, get in touch with the professionals from LEDLUCKY.
Best LED Stadium Volleyball Court Lights in 2020
The market is filled with tons of LED stadium lights; however, not all the lights are made equal. The best-LED stadium light you can install in your volleyball court is from LEDLUCKY. The ArenaSharp LED stadium light is an ideal choice for lighting up the stadium. It can easily replace a 2000W HID lamp without incurring any extra cost.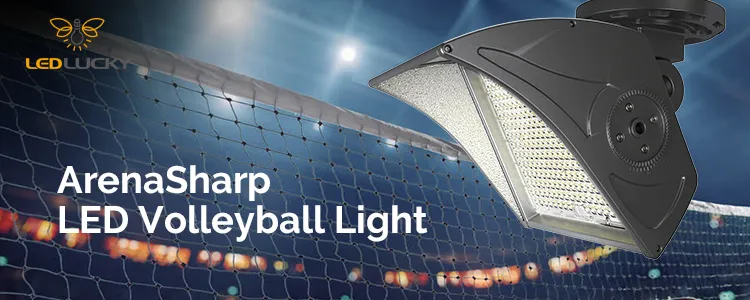 This light is designed to reduce spillage and block stray light. In addition, the light is perfect for reducing light pollution, making it eco-friendly. A wonderful feature of this LED light is its reflector that is made from diamond crystal material. This is useful in providing uniform and high reflective light.
The streamlined design of LED lights is useful in reducing the impact of windy weather. Another good feature of the court lighting is its IP65 ingress protection and 10V surge protection. This light is certified including SAA, CE, RoHS, ENEC, and CB.
Volleyball court lighting is crucial for both spectators and athletes. This is because in dark it will be impossible to play and see where the ball is. Traditional lighting might be inexpensive in the short run, but in the long run, it proves to be expensive because of maintenance costs and short lifespan. If you want to buy quality LED lights, LEDLUCKY is an ideal choice.
See the LED Stadium Light
Don't hesitate to tell us about your needs