An Extensive Guide to LED Race Track Lighting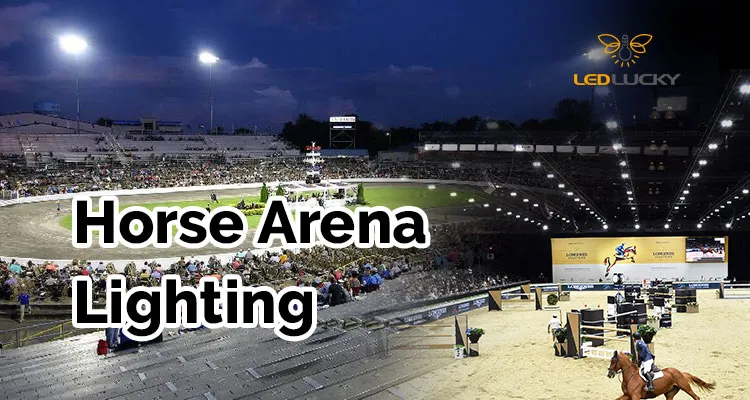 Have you ever seen a wreck? We all have seen it in real life or a movie. Everyone is aware of the dangers a car wreck can present, especially when driving at high speeds. There is a risk of accidents on race tracks despite professional drivers. Even a slight mistake or slip up can result in a serious accident.
That is why race track lighting is crucial for the safety of spectators and drivers. A good race track lighting will provide a uniform and bright light so that the track is illuminated properly and evenly. This will make the whole experience more enjoyable for everyone.
Long gone are the days when for lighting up the track metal halide, halogen lamps, or HPS were used. In present times, LED lights are used for brightening up space because it is durable and offers high efficiency.
Whether it is a local event or an international competition like Formula 1 World Championship or NACAR, LED light is the right choice. Are you wondering why LED light is perfect for lighting up the tracks? In this guide, we have listed why LED lights are great for your track.
Reasons to Use LED Lights for Race Track Lighting
LED lights have gained popularity in recent times because of its efficiency and performance. Such lights offer evenly distributed light and enough brightness to illuminate the whole space. There are several reasons for installing LED lights. Here are some of the most compelling reasons.
1. Color Rendering Index (CRI)
The CRI helps in determining how we see colors under lighting. The highest CRI in lights can be 100. This light is equal to the sunlight. When the light has low CRI, then it will compromise the way we see colors. This will take out some of the enjoyment of the race. Because seeing the cars as colors, adds up to the watching experience. Without a doubt, distorted colors can be unpleasant and gloomy to watch.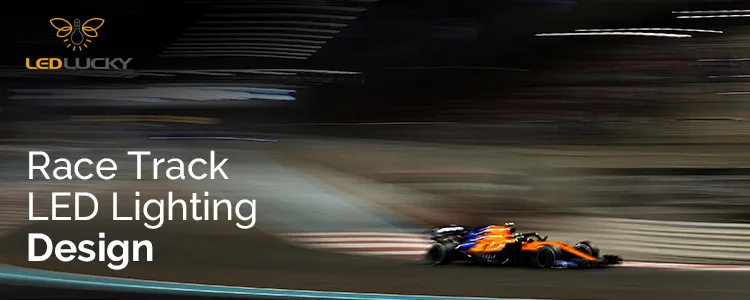 2. Brightness or Lux Level
One of the reasons for installing LED lights is the brightness it provides. Drivers should be aware of their environment and surroundings. At the same time, on the race track, the drivers must concentrate on the tracks to make sure they and other drivers are safe.
That is why it is important to meet the lighting requirements of the track. It is recommended to have lighting that provides maximum vision and protection.
For a race track, it is advised to have 700 to 1000 lux. While the vertical and horizontal brightness level must be up to 2000. The horizontal lux levels are the flat surface or ground lighting whereas vertical lux levels are the side lighting. To have the best performance, the level ratio should be 1:1.
When deciding which LED light is to install, you must focus on watts. For determining the required watts, you must multiply the required lux with the square meters of the space. This will provide the required lumens. You can use lumens too figure out how many watts you require.
LED lights are known to brighten up space equally and uniformly. So, you must install LED lights for illuminating the race track.
Another reason for using LED lights in race tracks is that it is flicker-free. Nowadays, everyone has a smartphone to capture 4K photos, videos, and record slow-motion videos. If race track lighting is not right, it will flicker. This will prevent the audience to see the whole action and capture the special moments.
That is why it is suggested to install a light that prevents flicker. LED lights are the best choice as they are flicker-free.
Uniformity of light is an important aspect of track lighting. If the light is not consistent, then it increases the risk of accidents. So, lux should be evenly distributed throughout the track to produce uniform light.
The maximum uniformity of the light is 1; however, 0.5 to 0.6 is more than enough. For having optimal performance, the uniformity should be 0.7 to 0.8.
LED lights are known to produce uniform light to enhance the vision and performance of the drivers. LEDLUCKY offers a wide range of quality LED lights for installing in your race track. Visit the website to explore the collection.
Benefits of Using Race Track Lights from LEDLUCKY
Many races take place in the afternoon or evening. This means only limited sunlight is available for the track. It can have a detrimental impact on both, the spectators and drivers. This is where LED lights come in handy.
LED lights have a long lifespan as it can last for up to 22 years. Such lights even withstand harsh weather conditions rather than traditional race track lighting. Moreover, LED lights will even decrease light pollution which is good for the environment. It will ensure the wildlife and nearby residents are not disturbed by bright light.
Following are some of the benefits of installing LED lights from LEDLUCKY:
1. Structure of the Light is Robust
All the LED lights have a robust structure. The lights are made using aluminum with either cold forging or die-casting techniques. All the lights from LEDLUCKY have a single piece formed heat sink. Thanks to its structure, the light has no damage risk or corrosion risk.
Additionally, the arms and the brackets of the lights are designed and tested according to the standards of the LED stadium lighting requirements. This enables the light to withstand harsh conditions like thunderstorms.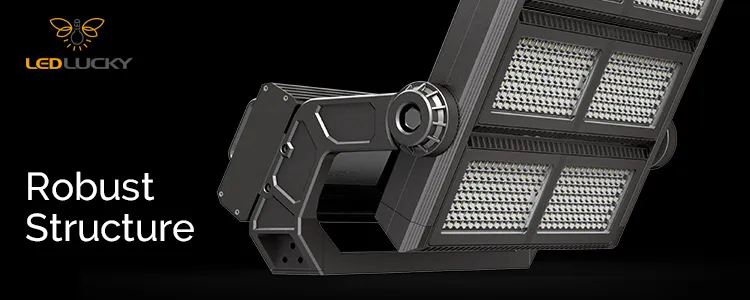 2. Lights Are Light Weight
One of the benefits of using LED lights from LEDLUCKY is its weight. The lights are designed using the latest technology and cutting-edge design on thermal management. Because of this, the lights are compact in size and lightweight. Moreover, the lights have an excellent heat dissipation ability, which will increase the lifespan of the light. This even helps in reducing labor costs as you won't need a lot of people to move the light.
3. Provides Anti-Glare Lighting
One of the important aspects of LED lights is glare. All lights produce glare which irritates the eyes of the racers and audience. LED lights are designed in a way that reduces the glare, enhancing the vision of the drivers and spectators.
LED lights can provide direct light along with reducing glare. It will produce even light throughout the track. A remarkable thing about our LED lights is that it supports Full HD and 4K filming at night.
Furthermore, our LED lights are eco-friendly. Since the glare is decreased, the impact of it on the environment is also reduced. It will decrease light pollution and make the world a better place to live.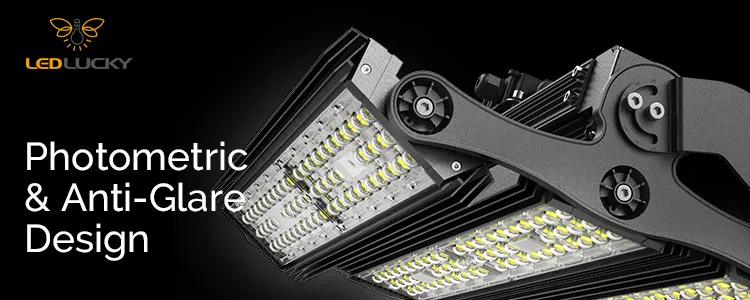 4. Highest Level of Impact Protection and Ingress
The LED lights are known to have a longer lifespan and are perfect to be installed in all types of environments. This is because of ingress and impact protection. Our LED lights are gasketed and sealed for IP66 impact protection. This will prevent the dirt from damaging the light. Thanks to the tempered glass, it offers adequate protection in case of impact. This is the reason why you can use our LED lights can be used both indoors and outdoors.
5. Operational Cost of Race Track Lighting
Let's face it, operating a race track is not an easy job. A lot of expense is incurred to keep it operational. One of the biggest expenses is the lighting cost. The operating cost varies from track to track. The size of the speedway has a crucial role to play in determining the cost.
For instance, the lighting cost of LED lights for a medium-sized race track might be around $25,000 to $60,000.
As far as the running cost is concerned, for every 10,000W LED light, the running cost will be 10,000W x 8 hours x $0.12/1000 = $9.6. On monthly basis, it will cost about $9.6 x 30 = $288.
In the case of traditional lighting, the cost will be at least 10 times more than that of LED lights. So, it better to install an LED light to reduce the operational cost.
If you want to get an accurate estimate, kindly get in touch with our experts.
We hope by now, you have complete knowledge of why you should choose LED lights for your race track. Race track lighting is an important aspect of tracks because it will have a direct impact on the vision of drivers and spectators. For the safety of drivers, it is critical to have bright and uniform light. There is nothing worse than car wrecks and accidents. So, proper lighting is required.
There are many LED lights suppliers; unfortunately, not all the suppliers are trustworthy. LEDLUCKY is a leading supplier and manufacturer of LED Lights. All the lights are designed using cutting-edge technology and the highest-quality materials. The LED lights are perfect for offering uniform and bright light. This will brighten up space evenly.
For more information regarding LED lights, feel free to get in touch.
See the LED Stadium Light
Thanks for reading. We also provide other LED lights as while. Click the below link to view if you are interested.
Don't hesitate to tell us about your needs