LED Football Stadium Lights for Professional Sport Pitch
The best LED stadium lights – A Brief Guide to Football Field Lighting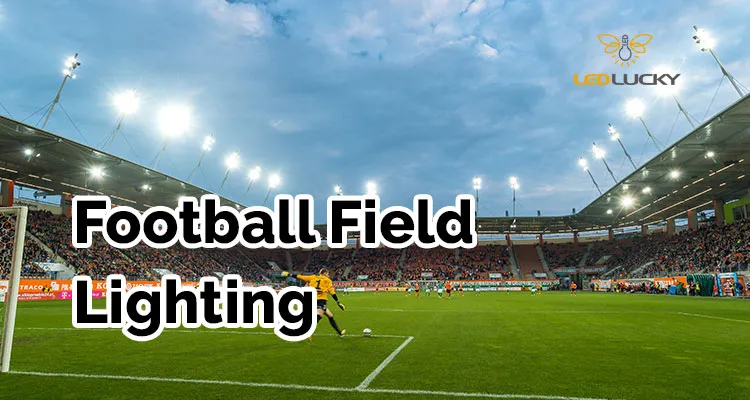 Football stadium lighting comes with its own rules and regulations that need to be followed while fixing the lights in the ground. The standards for stadium light for professional sports pitches have become a lot more demanding with the advancement of technology, including the latest technology i.e. LED to light up the arenas. The basic sizes of the lighting fixtures in the fields vary according to the size of the field. LEDLUCKY lighting offer a variety of lights to suit your lighting needs as per standards.
Football Stadium Lighting Standards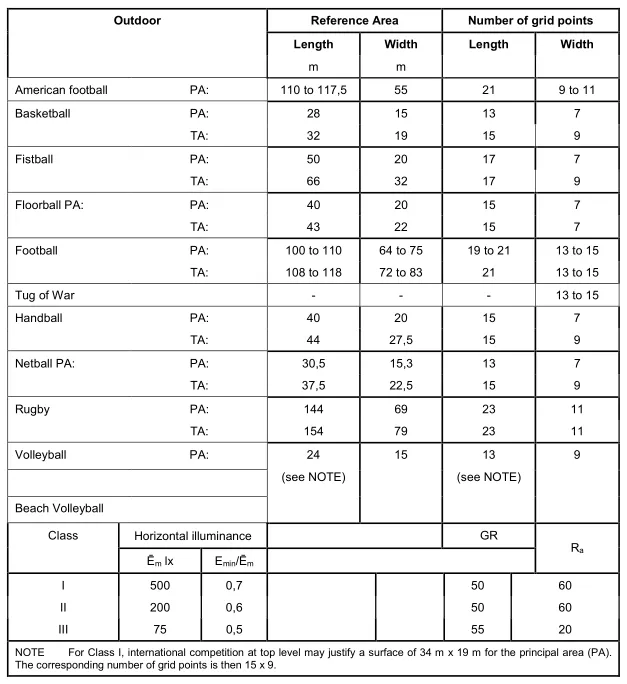 Football stadium lighting is not as easy as it may sound. It is divided into three categories, which according to the EN12193 international standards is ideal.
As per standards of EN12193, the LED lighting guidelines include 75 lux horizontal lights for recreational and training purpose in field. When it comes to recreational football fields and high school football grounds, the range is usually from 75 lux to 200 lux.
Class II involves the lighting guidelines for leagues and clubs. The standards for stadium light for professional sports pitches are 200 lux horizontal lightings with uniformity of 0.6. This is specially set for semi-professional stadiums.

Class I includes all the stadiums for professional purposes. These stadiums are to be used for televising the events as well, for which the lighting needs to be professional as well. These grounds are used for national and international games so the lights installed must be high performance and of excellent quality. For this purpose, the ground lux ranges from about 1000lux to 2000lux, the uniformity ranges about U1 at 0.7, and U2 around 0.8.
Football Stadium Lighting Solution Through Pole Adjustment
Mounting the lights correctly as per standards is also important, especially when it comes to professional matches. The lighting should follow the basic guidelines, so that illumination throughout the stadium is accurate. LEDLUCKY lighting offers standard lighting for all purposes in field lighting to help you in achieving your lighting goals.

Lighting at four corners imply that the lighting poles are set at four corners around the stadium,so that the light beams cover from corners to center of the ground. For this purpose, the height for poles must be as high as possible so that the light can travel easily to the center while controlling anti-glare as well as uniformity of light. To create uniformity in lights, the height of installation should be at least above 30 meters from the ground in Class I stadium.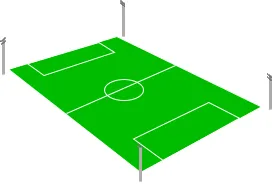 In this category, the four lighting poles are arranged at the very center of the two sides; this enable the light beams to cover the complete ground evenly. This is important to consider, so this needs to be set as high as possible as well.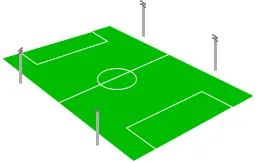 3. Six to Eight Pole Distribution
When it comes to more lighting poles, the height of the poles does not need to be too high. The uniformity will come with normal height as well. This is usually for training grounds in high schools and community grounds.

Highlights for LEDLUCKY Football Stadium Lights
Under the same conditions, the higher the light efficiency, the more energy-saving. led stadium lights from LEDLUCKY use high-quality LED chips, the light efficiency can reach up to 160lm/W to acquire energy saving at most and remarkable rebate from electricity.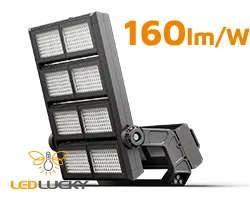 Different stadiums have different needs, to meet the needs, we need the lights with a variety of power options, and also the beam angle needs to be diversified. LEDLUCKY football stadium lights have removable/replaceable polycarbonate optics with high light transmittance help to concentrate light to acquire symmetric/asymmetric narrow, medium and wide beam angle. Free from streaks and striations, a variety of symmetrical and asymmetrical optics with rectangular and circular patterns maximum the use of light. Built-in glare control maintains high-quality light without compromising comfort.
3. High Quality Light & Flickering Free
As well known, flicker and color rendering indices of the lighting are two of the important quality aspects that influence the effect of TV broadcasting.
led stadium lights from LEDLUCKY employ high-quality drivers which do not produce any visible stroboscopic effects thus the clear viewing is possible without a flicker in a high-definition broadcasting environment.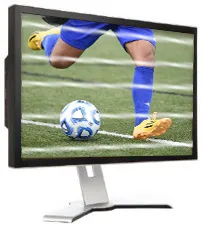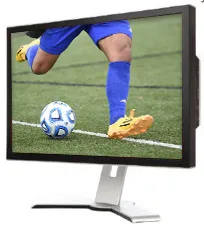 And they can also be tuned to come closest to natural sunlight (Ra>90) without adding any glare or distorting ultraviolet or infrared lighting spectra; all lead to the best possible color appearance and contrast to following even the fastest action on sports playing field.
Our lighting designer could help you with your planning for the football fields you're willing to light up. When the planning scheme is developed and approved, the installation and aiming of floodlights as planned will become quite crucial. The precision aiming device will assist to precisely align the light to an aiming point with a green laser ray of maximum 300m distance projecting ability. All is to make your work much easier and high efficient.

A single one-piece aluminum blocks is formed with cutting edge die-casting technology to help secure the LED lifespan and improve stability. The anti-corrosion treatment guarantees the sustainable and durable features ensuring a long term usage against rigorous conditions. The lifespan of LEDLUCKY football led stadium lights can reach to 100,000 hours.
The sophisticated design on thermal management combining with utilization of cutting edge technology allows the luminaire feature compact size and light weight in favor of labor cost reduction without compromise on heat dissipation ability.
7. Visor to trim the excess upward light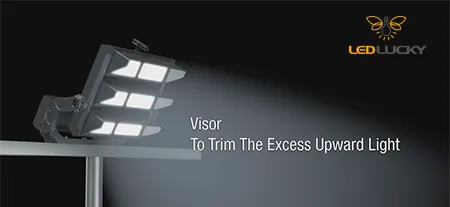 Spill or obtrusive light is light which spills out of the playing surface and into surrounding areas, such as residential zones or parking aprons etc. The visor is specially designed to trim the excess upward light for excellent control of spill light and limitation of glare.
8. Wireguard to protect the fixture
The stainless steel wireguard is designed to protect the fixture from hitting by high speed objects such as flying birds or balls.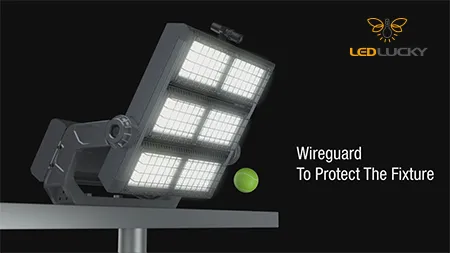 LEDLUCKY provides 5 years warranty for all led football stadium lights. If you choose LEDLUCKY football stadium lights, you can get quick support at any time.
When sport light comes to professional stadium pitch lighting, keeping up with the guidelines of the specific standards is important., keeping up with the guidelines of the specific standards are important. You can select the lighting type according to the use of the football field whether you need to light up a football field for a school, or for national games. You can choose from the three classes and decide accordingly. The more professional the football field and game is, the higher the need for illumination, quality, and lux of LED stadium lamps. To enjoy this service, please feel free to contact us at email [email protected]
See the LED Stadium Lights: ARENASHARP E LED STADIUM LIGHT
Don't hesitate to tell us about your needs