LED IP65 Spotlight for Port Road
The Ultimate Guide to Harbor Lighting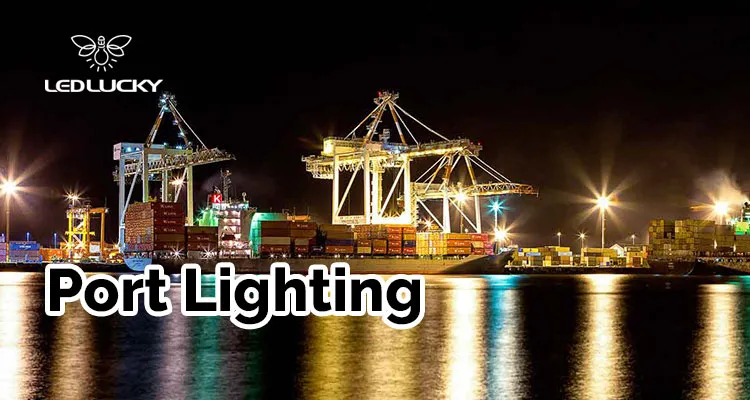 Port lighting has evolved over the passage of time. As ports hold great economic significance, the port road led spotlight lighting is something that should not be taken lightly. The lights tend to offer wide luminaire spacing and involve high mounting heights. On top of that, the lighting is often placed in coastal environments. Therefore, the IP65 spotlight is particularly important.. There are many things that need to be considered when it comes to port lighting and this post aims to educate you on all the important points so that you have an idea about what to look for. Whether you require port lighting for rail yards, inland ports, or coastal ports, they are present unique lighting challenges regarding light output requirements, environment, and maintenance.
1. Disadvantages of Traditional Port Lighting
Gone are the days when companies used traditional port lighting. If you are still not convinced as to why you should not use traditional port lighting, the following disadvantages will help you come to the realization that it is best to replace traditional lighting.
A major disadvantage of traditional port lighting is that it costs a lot of money to maintain and use. Unlike modern LED lights, it is more expensive when considering maintenance. Besides, there are no advantages to justify their financial costs. Moreover, when you use traditional lighting, you will have to pay higher electricity bills which can easily take a toll on your budget. Hence, it is best to transition to the latest lighting options which only require an upfront investment.
1.2 Harmful to the Environment
Another reason why traditional port lighting is best replaced is that it is harmful to the environment. Since more energy is required to operate the lighting, not only will you pay more money but it would require more energy to be consumed which is bad for the environment. We live in a time where it is important to save as much energy as possible. The more power you save the better it is for the environment. As most of the electricity on earth continues to be produced by fossil fuels, it is important that you opt for energy-efficient options.
When it comes to traditional port lighting, you will experience lower light quality. The light colors would be poor and space would not be as brightly illuminated as you would want which would also cause accidents to occur.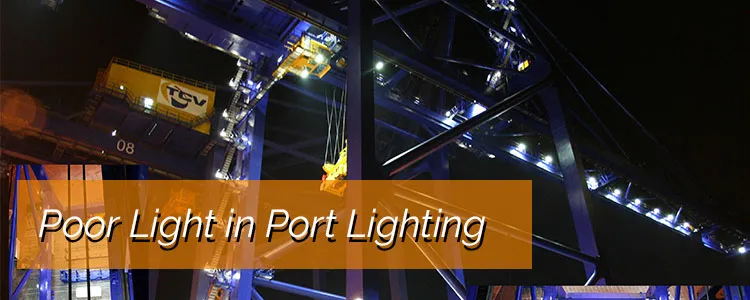 Traditional port lighting lacks the durability offered by modern options. The lighting does not last a long time and requires additional maintenance. Besides, the lighting is not made for the outside environment and can easily malfunction, therefore, a led spotlight in the port road with at least IP65 is required. There is also a heating danger that should not be overlooked.
2. LED Port Lighting Design
The LED port lighting design should ensure that safety is increased, energy consumption is a reduction, and that there is less wastage of light. High power LED lights that are designed for seaports should be used to provide a large amount of power.
There are three different styles of port high mast lights depending on the application. They include a low profile trunnion mount, low profile slip fitter mount, and traditional style. The design of the lighting should be directional as no light should be wasted. It should properly illuminate the entire port and its facilities. Specific beam patterns and angles should be achieved with optics control.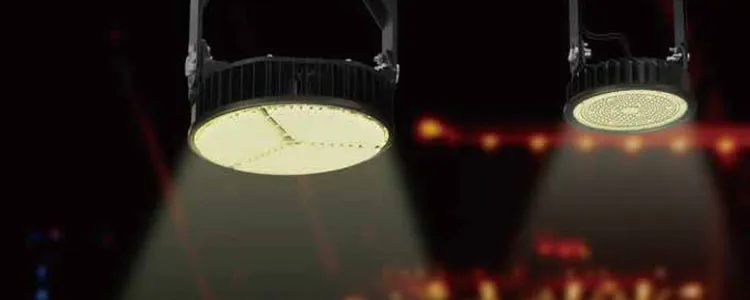 2.1 Large Container Areas
Large container areas involve a great deal of work. The work needs to be precise and there should be sufficient lighting to ensure that nobody gets injured and to boost productivity. Large container areas require LED lights that have a design that helps maximize illumination as the entire area would need to be perfectly illuminated.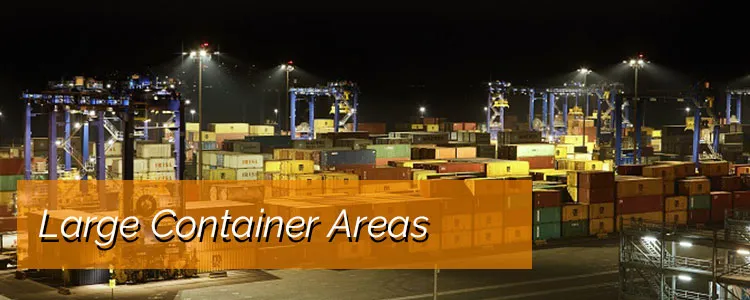 Rail lines do not require as much illumination as large container areas. However, the entire tracks of each rail line need to be illuminated to make sure that everybody can see the train approaching and know that there is in fact a rail line. The design needs to cover a larger distance.
Crane lighting requires a design that facilitates the use of cranes. It should help sufficiently illuminate the entire area so that workers can use the crane with ease and not have to worry about causing an accident. Cranes handle a lot of sensitive work. This is why there needs to be LED lights placed throughout the area so that workers can clearly see the crane while the operator moves the objects with ease.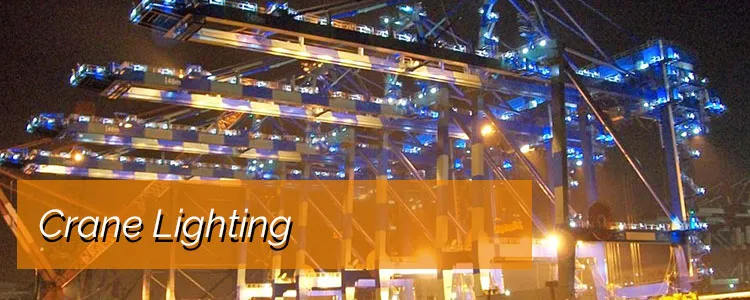 Access roads can only be used when there is enough light. As car and truck accidents are quite common at night, there needs to be port lighting around the area so that everyone can see which vehicle is passing by and avoid getting injured.
3. Benefits of LEDLUCKY Crane Light For Port Lighting
For those of you that are on the lookout for ip65 led spotlight for port lighting, LEDLUCKY is a company that you need to consider for all your needs. It is known for being the best crane light manufacturer in the region. Its superior service has made it a major player. The following benefits of LEDLUCKY will allow you to understand why it is the best company out there.
One of the main reasons why LEDLUCKY is the perfect company to order crane light for your port lighting needs is because it offers superior light quality. You will not be able to find a company that offers such a high quality of crane light.
Due to the strict nature of work at ports, you have to ensure that the light quality is high. Otherwise, it would cause accidents and hazards. The lights offered by LEDLUCKY use the latest technology which allows one to benefit from amazing light quality which makes it possible for one to engage in precise directional work. Besides, from the moment you install the lights, you will notice just how superb they are. Double the amount of light in the port by installing LEDLUCKY crane lights as their quality is so high that even areas that seemed impossible to reach can be perfectly illuminated.
Another reason why LEDLUCKY crane lights are simply the best is because of the fact that they help improve safety. It can be a challenge for handling bulk equipment and containers. However, with LEDLUCKY crane lights, you will notice an improvement in safety. The employees will be much safer and you will not need to worry about their lives being risk. When you install the lights, you will notice greater visibility which would help improve safety levels at the port.
Excessive and uncontrolled brightness cause glare. It is a visual sensation that causes accidents and can prove deadly. To avoid glare, LEDLUCKY lights help ensure that it is minimized through proper control of lights. It is something that needs to be considered when on the lookout for outdoor lighting. The discomfort caused by glare is something that should not be taken lightly. It impacts workplace safety and productivity. However, by installing LEDLUCKY lights, you will never need to worry about glare again.
LEDLUCKY is a company that offers port lighting options in all high power LED color temperatures including 2700K and 5000K. Whether you are on the lookout for a slightly warmer color or a much cooler color, you can get it at LEDLUCKY. The company prides itself in knowing that its customers get to order the color temperature that they desire.
Light pollution is something that more people are taking notice of. Governments are passing laws that fine companies which produce a lot of light pollution. To help ensure that your company maintains a low carbon footprint, you have to make sure that your light pollution levels are at a minimum. For those of you that do not know what light pollution is, it refers to artificial light that is directed upwards and goes wasted. It ends up illuminating the night sky with unnecessary and excessive light. Light pollution wastes energy, disturbs wildlife and damages the natural view of the night sky. As awareness of light pollution increases, you cannot afford to take it lightly. To help ensure that you are on the right side of the law and do not damage the environment, you should get port lighting from LEDLUCKY.
3.6 Energy and Cost Savings
Finally, port lighting can be quite expensive. If you are concerned about energy and maintenance costs, you should switch to LEDLUCKY port lighting as it allows you to benefit from energy and cost savings. Reduce your electricity bill by making the switch. The lights use a lot less energy and provide better light output. Take advantage of reductions in energy usage with their amazing lights.
After you have finished reading this guide, you will know everything about port lighting and the design requirements of cranes, the facility, rail lines, and access roads. Always choose lights from a reputable company like LEDLUCKY for the best results.
See the LED Port Lights: CRANE LED PORT LIGHT
Don't hesitate to tell us about your needs