The Sirius S is a very user-friendly floodlight. This is reflected in the details of his design, his power chamber can be used as a power box, such as:
1. Easy to open the power cover, saving the difficulty and time of later maintenance;
2. Support frame can support the power cover, so that even a single person can easily do any operation, reduce the number of maintenance personnel, that is, reduce the cost of maintenance personnel;
3. Sirius S sets the power off switch, when the power cover is opened at the same time the whole lamp will power off, to ensure the safety of maintenance;
4. Built-in wiring terminal, internal wiring is super convenient;
5. At the same time, the power cavity of Sirius S reserves two outgoing ports, which can realize the cascade effect;
6. The rotating cap of the Sirius S bracket has a scale designed to accurately adjust the required Angle. Sirius S specially designs two schemes with and without lenses according to the lighting requirements of different environments, which can meet the use of most floodlighting places.
This product is with elegant appearance and high efficiency, high configuration, long lifespan and also high temperature resistance.
Various optics for options.
Incremental 30deg tick marks are provided in the casting of a single hex head bolt to allow for precise aiming and to facilitate the alignment of multiple luminaires.
Changeable lens available to reduce inventory cost.
With gasket-fixed tempered glass.
LumiLeds/ Sanan/ Osram/ Samsumg
110lm/W,115lm/W, 120lm/W, 130lm/W, 135lm/W, 140lm/W
Product Size Chart(unit: mm)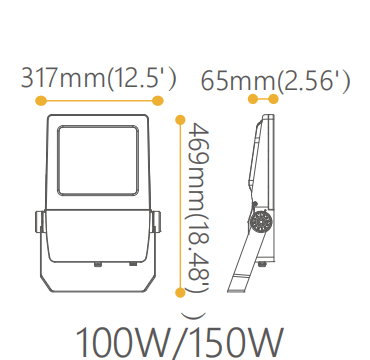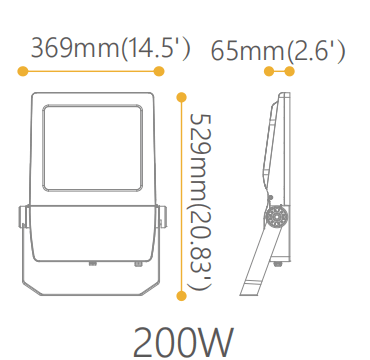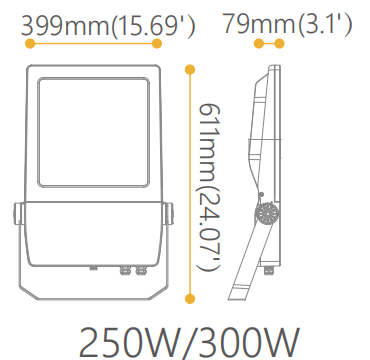 Don't hesitate to tell us about your needs