The Ultimate Guide to Rugby Field Lighting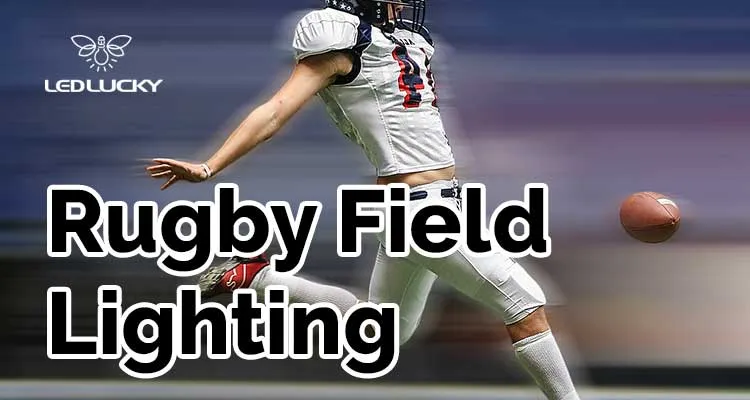 Rugby is one of the most popular sports in the world. It is watched by rugby lovers from across the globe. Fans flock to rugby matches every year in hopes to watch their favorite team win. To ensure that fans enjoy the best experience and that ruby players perform their very best, lighting is crucial. When it comes to lighting rugby game stadium fields, it is vital that the established rules are followed. If you do not know much about rugby field lighting and want to know more, this guide is just for you. It shares all the information that you need to ensure that the rugby field is fully illuminated. So, what are you waiting for? Let's take a look at the guide.
The first thing that you need to know is the size of the rugby field before you even decide to get lighting. It is common for a rugby field to measure 120 x 70 meters. The actual dimension would vary slightly. Once you have determined the size of the rugby field, you can move with getting high mast lights including 4 poles and 6 poles. It is impossible to host a rugby game without rugby field lighting and the first step that you need to take to design the lighting is to measure the size of the rugby field. The main reason why it is important to measure the rugby field is that there are other requirements that depend on the size such as uniformity of illumination and color temperature.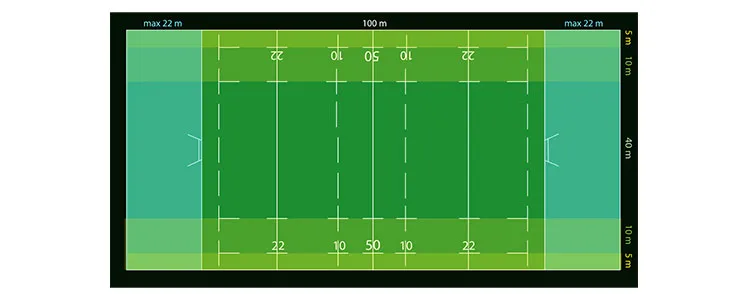 2. Rugby Pitch Lighting Standard
When considering rugby pitch lighting, you need to take a look at the standards that have been set by the RFU. They provide guidelines on the power selection of rugby stadium lights. According to the rugby pitch lighting standards, the lux requirement for general commercial and recreational use is around 250 to 300 lux. Thus, keeping in view of this fact, the total lumen required by the rugby field lighting would be calculated as lux requirement x the width of the rugby field x the length of the rugby field. Generally, lighting uniformity of at least 0.6 is needed as it the normal value observed in most sports fields.
2.1 Rugby Pitch Lighting Levels
Next, the rugby pitch lighting levels need to be considered. There are different key levels that are available. You get to choose the key level that suits you best. You can upgrade the level of the lighting at a future date to keep up with the requirements. According to European standards, illumination levels of 500 lux are set for class 1, 200 lux for class 2, and 75 lux for class 3. However, it is important to note that the RFU has published its own standards for Class 1 and 3. These standards are mentioned below.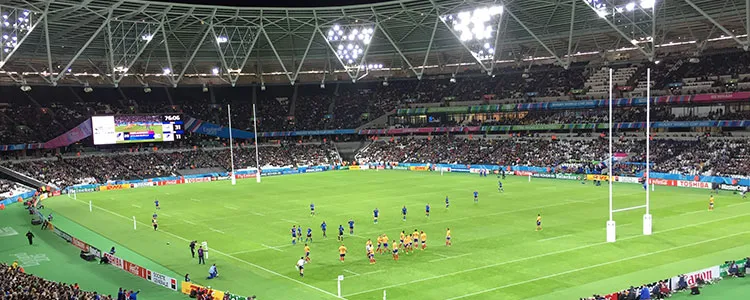 2.2 Colour Rendering Requirements
Besides, rugby pitch lighting levels, color rendering requirements also need to be taken into account. High color rendering is of immense importance. It ensures that there is no visual error that occurs during the match when the color temperature changes.
Cold light sources produce low heat. This makes them safe to touch, unlike fluorescent and incandescent lamps. With proper color rendering, a comfortable light space is provided that meets the requirements of everyone's physical health. Cold light sources make for a healthy light source as they tend to be environmentally friendly and protect vision.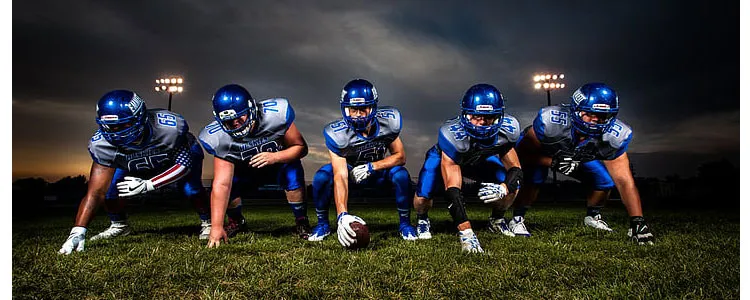 Similarly, the light source does not produce any harmful ultraviolet light. It is due to this reason that it is used for cultural relics and pharmaceuticals. When on the look for lighting that meets the color rending requirements, LED lights are the best option. They offer good color rendering which means that the colors of objects under the light would be closer to the color as observed under the daylight. The lights have a three-primary color water-coated phosphor tube that filters out ultraviolet light and guarantees a much longer life.
3. Rugby Pitch Lighting Design
Now that you know about the standards, you need to learn more about rugby pitch lighting design. The following layouts are available.
As the name suggests, multi-pole layout refers to rugby field lighting that consists of multiple pole arrangement. It consists of multiple groups of light poles on each side of the field. The reason why multi-pole layout design is extremely popular is that it offers outstanding advantages such as better horizontal and vertical illumination as well as lower power consumption. As the light pole is placed lower, it offers convenient maintenance and requires less investment. When talking about multi-pole layout, a two-side arrangement is also considered. It consists of lamps that are arranged in rows which provide a continuous light band lighting system. Uniform illumination is provided by the light strip. It would result in the brightness between the rugby field and the athlete being better. The multi-pole layout design is required for meeting the requirements of color TV broadcasting, HD TV broadcasting, and ultra HD TV broadcast.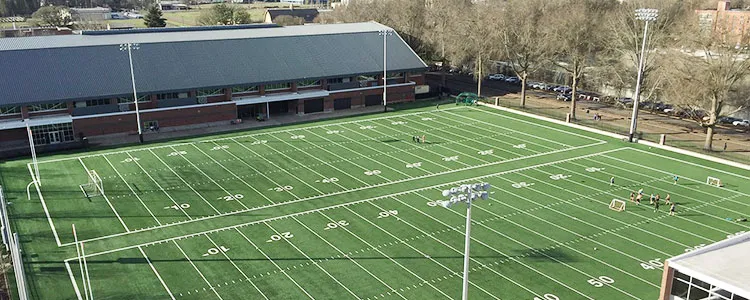 In addition to a multi-pole layout, it is also possible to opt for a marquee layout. This form of the arrangement consists of lighting on both sides. The lamps are arranged on both sides in rows to form a continuous lighting system. The light offers uniform illumination and the brightness tends to be much better. This type of rugby light design allows high-definition television broadcasts to be done as well as for ultra-high-definition broadcast. The length of the light strip would not be less than 180 meters. As for the projection angle of the lamps, it should not be less than 25 degrees.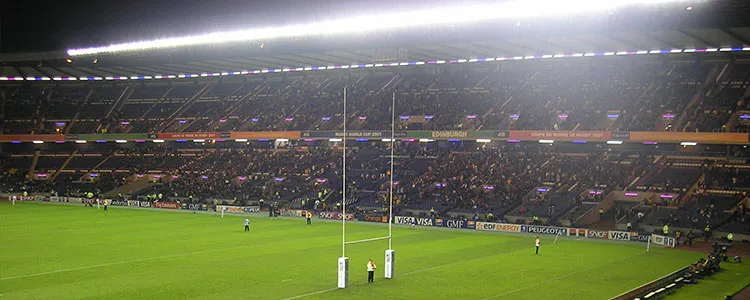 Finally, another rugby pitch lighting design that is common is a mixed layout. It offers the best of both worlds. Two types of lights are used to enhance the physical sense. The illumination and uniformity of the design targets all four directions more reasonably, while ensuring that the degree of glare is not too much. Thus, a unified building structure is illuminated at a relatively low cost.
4. Why Using LEDLUCKY Stadium Lights For Rugby Fields?
Finding a reliable LED stadium lights provider can be a difficult task. However, there is no need to worry because LEDLUCKY is a company that goes out of its way to provide the best-LED stadium lights for rugby fields. The following reasons help explain why it is the best choice.
4.1 High Light Efficiency
One of the main reasons why rugby field lighting from LEDLUCKY is the best choice is because it provides lighting options that offer high light efficiency. This means that you would have no trouble meeting the strict lighting requirements of the rugby field. LEDLUCKY provides a variety of lighting options which range from 200 lux to even 2000 lux.
4.2 Good Colour Rendering
Another reason why LEDLUCKY is the best company for rugby field lighting is due to the fact that its lights boast amazing color rendering. You will be surprised by the superior color rendering provided by the lights. Thus, you will have no trouble determining the colors of the surroundings when you install LED rugby field lights from LEDLUCKY. They have been designed to offer impressive color rendering that will leave you in awe.
When it comes to rugby field lighting, you need to make sure that the lighting you choose is flicker-free. To help provide you with the best lighting, LEDLUCKY offers lighting solutions that do not flicker. This means that you will benefit from stable lighting throughout the match. Thus, the cameras will have no trouble recording the entire match in all its glory. It does not get better than this. Unlike MH and fluorescent lamps which tend to flicker under the camera and their brightness fluctuates, LED rugby field lights from LEDLUCKY provide stable lighting that is compatible with 4K high-speed cameras as well as slow-motion cameras.
To ensure that external light and glare does not come in the way of athletes giving it their all, LEDLUCKY provides lights that boast anti-glare. The feature helps minimize off-site light and protects the beauty of the night sky. This results in players and spectators enjoying a comfortable environment.
In addition to the above, LEDLUCKY offers lighting solutions that do not produce light pollution. With global warming levels reaching an all-time high, it is vital that we all make an effort to reduce light pollution. This is where LEDLUCKY rugby field lighting comes into place. It ensures that light does not spill outside.
When you get LEDLUCKY lighting, you can rest assured that the lights will last a long time. The lights boast a long lifespan of up to 80,000 hours and more.
Finally, when you shop for rugby field lighting from LEDLUCKY, you also benefit from free lighting design.
Once you have gone over this post, you will know everything about rugby field lighting. Make sure to get your lighting from LEDLUCKY from the best experience.
See the LED Stadium Light
Don't hesitate to tell us about your needs