A Comprehensive Guide to Basketball Court Lighting Design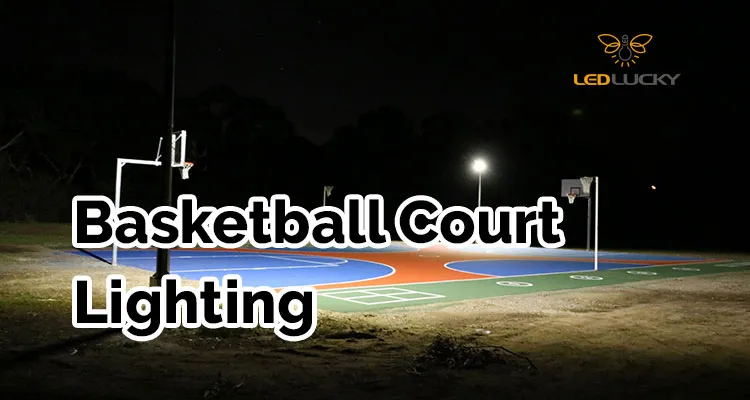 Thinking of changing the lighting design of your basketball court? Basketball is one of the most popular and commonly played sport at different levels, from school to college, and from the backyard to professional.
This sport is played indoors and outdoors in a basketball court. Since basketball is mostly played indoors, lighting has a huge role to play during a match. For instance, a court lacks sufficient light, this will make it challenging for the players to see the ball while the audience will not see what is happening. It will become impossible to play the sport. There is a chance the match will end in a fight. So, to make sure nothing of this sort happens, it is advised to properly light up the court.
For a long time, lighting solutions like halogen and metal halide lamps were used. The traditional lighting is expensive in terms of money, energy, and maintenance. In addition, such conventional lighting doesn't last long.
Shifting to LED lights is a good option. This is because stadiums or courts require high wattage along with high lumens. With the LED lights, you can easily brighten up the court, the light will be distributed evenly to all the corners, and it will be easy on the eyes of spectators and players. This helps in making playing basketball fun and convenient both, outdoors and indoors.
To make sure the court is well-lit, you must pay attention to the lighting design of the basketball court. In this post, we have created a guide for helping you have the right lighting design.
Lighting Design of Outdoor Commercial Basketball Court
When it comes to installing LED lighting in the basketball court, every type of court has different requirements. Whether you have a commercial, residential, recreational, or professional basketball court, make sure the lighting design is in accordance with the standard.
We have highlighted the lighting design for outdoor commercial basketball courts. Have a look!
1. Surge Protection and IP Rating
The first thing in basketball court lighting is surge protection and IP rating. Surge protection is a crucial factor in LED lights as a sudden increase in electricity might damage the LED light or cause failure.
Just imagine your LED lighting gets damaged because of a surge. This will not only impact the ongoing match but will damage your reputation as well. So, it is advised to get an LED light that has surge protection.
Moreover, the basketball lighting guidebook states all the LED basketball court lighting must have an IP rating. This is imperative because the lighting will be installed outside. To ensure it lasts for a long time and can withstand all types of weather conditions; it must be IP65.
One of the factors that you must focus on is the lux level of the LED lighting. According to the standard of basketball lighting, 200 lux is needed for non-televised events. On average, the standard size of the basketball court is 4700 square feet.
So, in this way, you will 200 x 437 = 87,400 lumens to brighten up the outdoor basketball court for recreational or backyard events. If you need an estimation, feel free to contact our experts at LEDLUCKY.
Reference link for Basketball court lighting design lumens: How Many Lumens Do You Need for Sports Lighting?
Another factor that you should consider when designing the lighting of the basketball court is the anti-glare feature. We all know that strong glare becomes irritating for the players and spectators. This makes them uncomfortable and adversely impacts the vision of the players. It results in the bad performance of the players.
As far as televised events are concerned, the lighting design is different from that of non-televised events. In case your basketball court will conduct professional or televised matches, then you have to ensure it is designed for broadcasting matches.
According to standards, your stadium must have 2000 lux brightness. Another thing that you have to keep in mind is the ratio between the maximum and minimum lux. It must not be more than 0.5. Other aspects you must focus on are color temperature and CRI of the lighting. The CRI must be 90 while color temperature should be between 5500 to 6000K.
Mostly basketball court lighting has low-quality strobe under the cameras. The cameras used in today's world are high speed. To ensure the lights provide the right illumination for broadcasting, you must invest high-quality lighting. The LED lighting that supports at least 6000 fps video shooting is recommended. The flicker rate should be less than 0.3%. This is because it is not detectable by high-speed cameras.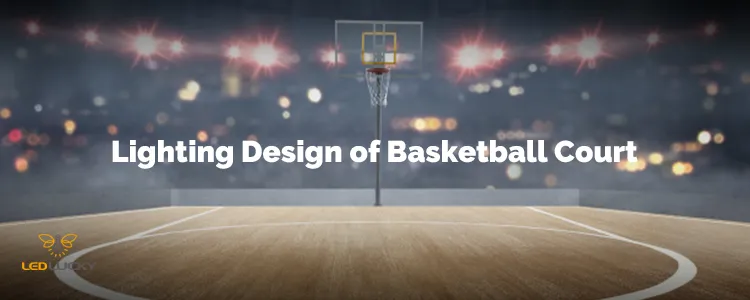 Lighting Design of Indoor Basketball Court
The lighting design for the indoor basketball court is slightly different than that of an outdoor basketball court. One of the most important requirements is a glare-free feature. The indoor stadiums have reflective floors, this means the strong glare will be a problem for both, the players and audience. This is why it is recommended to use indirect lighting. It will be better if the ceiling lights are faced upwards and the court will be illuminated by reflective light. Keep in mind, you will need to install extra power of LED lights for makeup for the absorbed light by the ceiling.
Moreover, you have to make sure the lux level, color temperature, CRI, and other things are according to the lighting standards.
How Much Will Basketball Court Lighting Cost?
The cost of LED lighting for basketball court will be high; but, in the long run, it will prove to be cost-efficient. Here is an idea of how much basketball court lighting will cost.
As per standard, televised events or professional events require 2000 lux. So, it means you will need 7000-watt LED sports lights. The running expense of LED lights for an hour will be as follows:
7000W x $0.12 / 1000 = $0.84
In case you turn on the lights for 8 hours a day, then the cost will be:
$0.84 x 8 = $6.72
For a month, the total expense of LED light will be $200. When compared to halogen bulbs, since the energy efficiency of halogen lamps is 10 times that of LEDs (requires 70,000W halogen lamps), electricity costs will be 10 times higher.
Top Reasons to Select LED Lights for Basketball Courts
Investing in an LED light for the basketball court is a good choice. This because LED sports court lighting provides bright and top-quality light. It will illuminate the whole court evenly. Another great reason for installing LED sports lights is its hassle-free installation. This eliminates the need for wiring.
There are plenty of reasons for choosing LED lights. Here are some other reasons for installing LED lights in the basketball court.
1. Exceptional Heat Sink System
All sports lights have a system that traps the heat produced by the light inside. It damages the light and eventually, you will have to replace the lights. With LED lights, you will not have to worry about heat accumulation. LED lights have a great heat sink system that will make sure it lasts longer.
If you are looking for an excellent heat sink system, LEDLUCKY offers an array of heat sink systems for enhancing the lifespan and brightness of LED sports lights.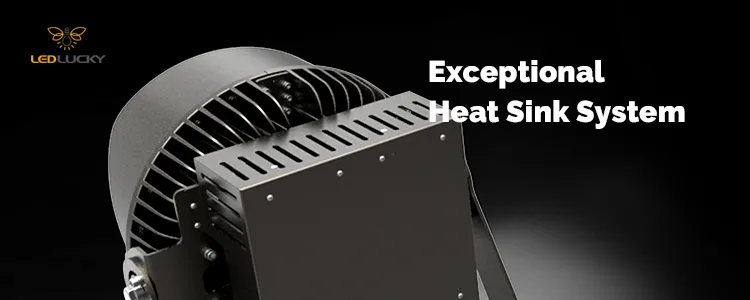 LED lights are known to last for a long time. This helps in decreasing maintenance and running costs as compared to traditional bulbs. It is because you will not need to replace LED lighting frequently. LED lights have a lifespan of nearly 80,000 hours. It can last longer depending on your usage. Unlike, metal halide bulbs, the brightness of LED lights will not decrease. Hence, when you install LED lights, you will not have to spend money or time on maintenance.
LED lights are energy-efficient, meaning the lights will not consume a lot of energy. This because they have bright chips. The energy efficiency of LED basketball court lighting is 140 lm/W. This is two times more than metal halide lamps. If you replace a 1000-watt metal halide bulb, you will be saving nearly 50% on energy bills. Since less energy will be consumed, the brightness will not be compromised.
4. Different Wattage Range
A great reason for choosing LED sports lighting is its wide range of wattage. LEDLUCKY stadium lights come in a variety of watts, from 75W to 2200W. Depending on the brightness you need, pick out the LED light suits your needs the best. No matter what wattage LED light you choose, it will consume less energy thanks to its energy-efficient feature.
Another reason for choosing LED lights is that it can easily replace your existing bulbs without any trouble. The LED lights will provide better brightness and illumination. In addition, the LED lights will consume less energy than traditional lamps.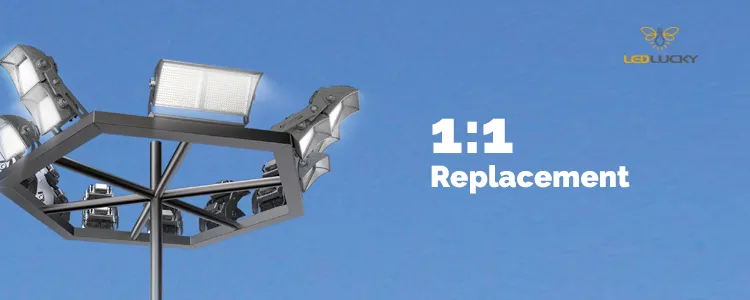 Therefore, investing in LED lights for the basketball court is an excellent way to brighten up your area. This is not only easy on your pocket but on the environment as well. In order to provide uniform and bright light, LED lights must be installed according to the standard lighting design of the basketball court. If you are looking for a quality LED basketball stadium lights or need more information, feel free to contact LEDLUCKY.
Don't hesitate to tell us about your needs