Sapphire Led High Bay Light
Sapphire is a high bay light fixture with a heavy design, which is in line with the aesthetics of European and American countries. It is a highly flexible high bay light. Its power can be adjusted from 80W-120W-150W, and the color temperature can also be adjusted from 3000K-4000K-5000K. It can be said to be a smart and real energy-saving high bay light, which can be built in a variety of different sensor modules according to the actual needs of customers, such as microwave motion sensor modules, infrared sensor modules, daylight harvest sensor modules, Bluetooth modules, and ZigBee modules. Sapphires have good heat dissipation performance, and the surface is powder coating, It's could help to resist corrosion and oxidation. Which is suitable for a variety of indoor and outdoor harsh environments.
LEDLUCKY has many years of research and experience in the field of industrial lighting, and we are a reliable supplier of industrial lighting products. Our product designs are mature and have very good price competitiveness. At the same time, we can also meet the different customization needs of customers, such as different built-in intelligent control functions and structural installation methods.
The anti-corrosion and oxidation resistance surface.
Mature design and competitive pricing.
ADC12 die-casting aluminum.
.ies/.ldt files are available.
130lm/W, 150lm/W, 165lm/W
Philips/ Sosen/ Chinese brand
Product Size Chart(unit: mm)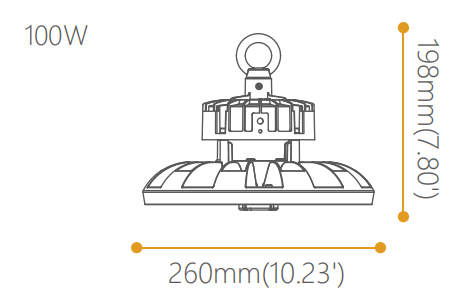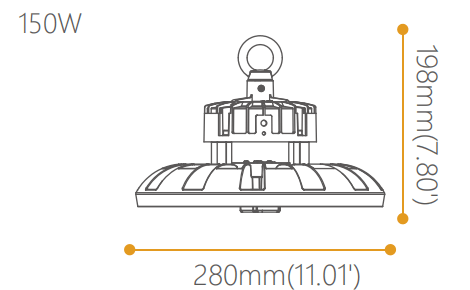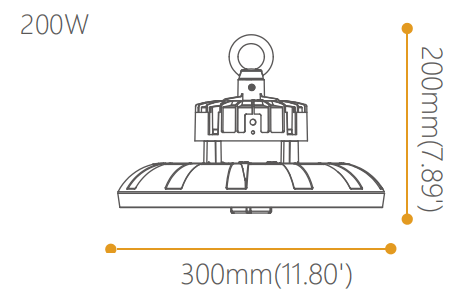 Don't hesitate to tell us about your needs