Warehouse Aisle LED High Bay - The Best Lighting Solutions
The best LED High Bay Lamps – An Extensive Guide to Factory Lighting Design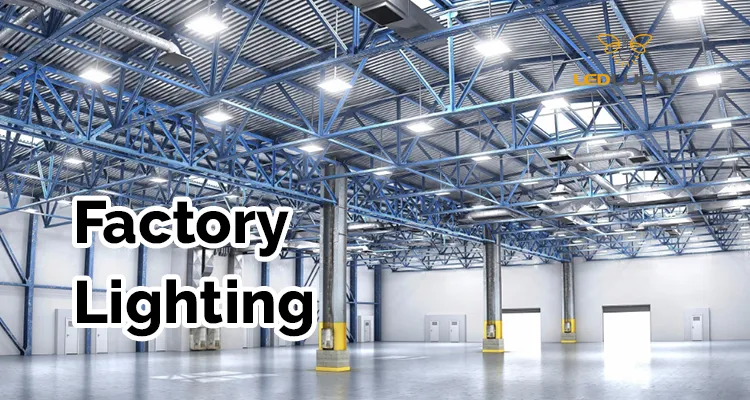 We all know the importance of good lighting in the factory. Yet, many factory owners don't know what proper lighting is or the ill effects of lack of lighting.
A proper factory lighting can be referred to as lighting that evenly distributes the light and brightens up space correctly.
Are you thinking what brightness level should your factory lighting have? Or Which factory lighting you must choose?
Having proper lighting in your factory can be a challenging and frustrating task without comprehensive knowledge. But don't worry, we are here to help you.
This post is a comprehensive guide to factory lighting.
What is Factory Lighting Design?
Without a doubt, factories are one of the most crucial parts of our lives. This is because the manufacturing and packaging of products take place here. Also, factories deliver products all over the globe. That's why the efficiency of factories is essential. To make sure the factory is running efficiently, you need to have a proper structure.
Lighting is an imperative part of a factory as it will enable you to monitor the processes in a better way and detect problems early. Good lighting will help in improving the productivity and concentration span of the workers.
When it comes to lighting design, it can prove to be daunting since you don't have extensive knowledge. Here are the things you need to focus on to when installing factory lighting.
1. Light Distribution Pattern
The first thing you need to consider when deciding the factory lighting is the distribution pattern. There are two types of lighting patterns that are perfect for factories. The Type I lighting distribution pattern includes long and narrow rows of lights. The top-down lights will provide light where it is required. This is great for a factory where the machines are equally spaced.
On the other hand, the other lighting distribution pattern is V type. In this pattern, the lights are installed in V shape as it increases the distribution of the lights. Mostly, the fixtures of the lights are square or round. This helps in distributing the light evenly.
2. Brightness Level of Factory Lighting
Deciding the brightness level of the lighting is a difficult part as you want the lighting to be bright enough for running the operations smoothly. At the same time, it must not be so bright to cause headaches or make the workers uncomfortable.
According to work environment standards, the brightness level of factory lights must range from 160 to 1600 lux.
There are many things you need to consider when deciding the lux level. For instance, natural light coming inside the factory, the color of the interior, and much more.
LEDLUCKY experts are always available to help you choose the right brightness level.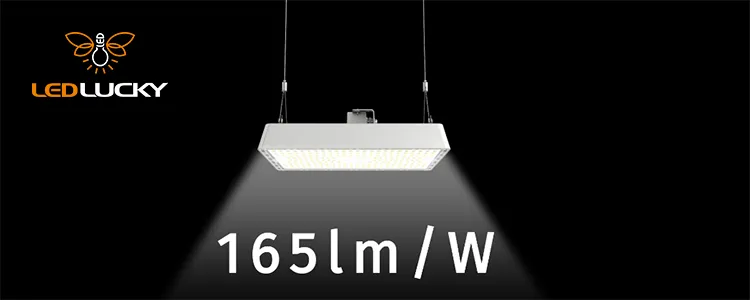 3. Spacing Between Fixtures
Another aspect that you should focus on when deciding the lighting design is the spacing between the fixtures. Good lighting design has fixtures spaced in a way that is cost-efficient and offers bright light.
The lights should not be spaced too close because it will increase the number of lights and there might be an overlap of light as well. If the factory has fewer bulbs, there will be dark and shadowy areas. Having fewer lights in the factory can increase the number of accidents.
So, it is crucial to get professional help to have properly spaced fixtures.
Benefits of Choosing LED Factory Lights
There are several benefits of LED lights. Here are some of the advantages.
1. It is Energy-Efficient
The first benefit of LED lights is energy efficiency. Since lights in factories will be turned on throughout the day, it will increase production costs. By choosing an LED light, you will be saving on energy bills as they use less electricity and produce bright light. Also, LED lights are eco-friendly, so you don't have to worry about damaging the environment.
2. Lighting Plan is Flexible
At times, there is a need to add new machines or to change the position of the machines. This will mean you need to change the lighting design. If the lighting design is not flexible, you will have a problem changing the lighting. LED lights are flexible, enabling you to adopt different factory lighting design.
3. Works Good Throughout the Day
No doubt, there is work going on in a factory around the clock. Workers have a night and day shift, which means proper factory lighting is crucial. This is why lighting must be able to brighten up space without any breaks.
The light must not produce a lot of heat as it will need time to cool down. And turning off a light might cause halting the operations.
This is where LED lights come in handy. Such lights can work all day long without needing a break to cool down.
Another benefit of LED light is its easy maintenance. The factor light should be easy to maintain and should not require a lot of manpower as it will have an adverse impact on the productivity and operations of workers. The cleaning must also be easy and must not require special equipment.
5. Performs Well in High Temperatures
Most factories have high temperatures like steel manufacturing factories or hot mills. This means the factory lighting should be able to work efficiently in the environment. You will need lighting that can bear high temperatures and performs well in both hot and cold environments. LED Lights have the capability to withstand all temperatures without losing its efficiency.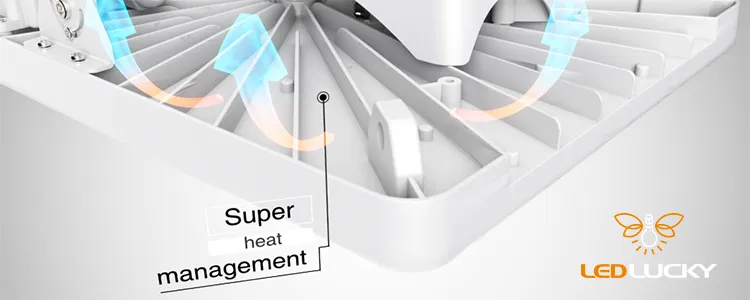 Reasons to Buy Factory High Bay Lights from LEDLUCKY
There are plenty of reasons to buy LED high bay lights from LEDLUCKY. Here are the most compelling ones.
1. Wide Range of Lighting Controls
One of the reasons for buying LED high bay Lights from LEDLUCKY is lighting controls. The LED highbay lights come with different lighting controls that can decrease the cost of lighting and increase efficiency. For instance, LED high bay lights have dimmers that help in adjusting the lighting.
Some lights feature motion sensors. This helps in saving electricity and energy bills. The high bay lights will be turned on when motion is detected and turned off when not in use.
For measuring the efficiency of the light, you need to look at the luminous efficacy. It indicates the lumens produced for each watt of electricity. LED high bay lights have high luminous efficacy than traditional lights. a great LED high bay light has lumens per watts ranging from 130 and 180.
Another reason for choosing LED high bay lights is that it can easily replace HID bulbs. The LED high bay lights are available in different wattages, voltages, and optics. This means it will suit any requirement you have. Moreover, the LED high bay lights from LEDLUCKY are capable of producing 5,000 to 10,000 lumens per fixture. It is more than enough for 15 ft to 40 ft ceilings.
4. Choices of High Temperature
We all know that the temperature in factories can rise and there might be heat issues. This might damage the most LED lights. However, our LED high bay lights are created to withstand all extreme weather conditions. So, you can rest assured that you can use them in extreme cold or hot temperatures.
Another reason for buying LED lights is that it comes in compact and small size. This means you can install them anywhere in your factory. The high intensity LED lights to have small sizes making it perfect for manufacturing operations.
6. Light Distribution and Beam Angles
The distribution of light has a crucial role in proper factory lighting. For determining the distribution of light, you need to pay attention to beam angles. The LED lights have different beam angles, from wide to narrow. Hence, irrespective of the beam angle you want, LED lights can easily suit your requirements.
The LED lights have a high long lifespan as it can last for up to 80,000 hours. Besides this, the LED lights are durable and rugged and can withstand extreme weather conditions. The LED lights have heat sinks that will keep the lights cool.
8. Color Rendering Index (CRI)
CRI helps in defining the color of the light. In a factory, light color has a vital role to play because it will help in contrast and clarity. When it comes to HID, many people have complained about poor light color. With LED factory lights, you can get good light color. The CRI above 70 is good. Our lights have CRI between 70 and 85.
We hope this guide will help you install proper factory lighting. If you are looking for the best-LED lights, no need to look further. LEDLUCKY is a leading supplier of LED lights providing a wide range of lights.
We have a team of experts who are willing and ready to assist you. Our team has comprehensive knowledge to guide you through the right lighting design for your factory. For more information or a quote, call us today!
Don't hesitate to tell us about your needs