A Complete Guide to Airports Apron Lighting: High Mast LED lighting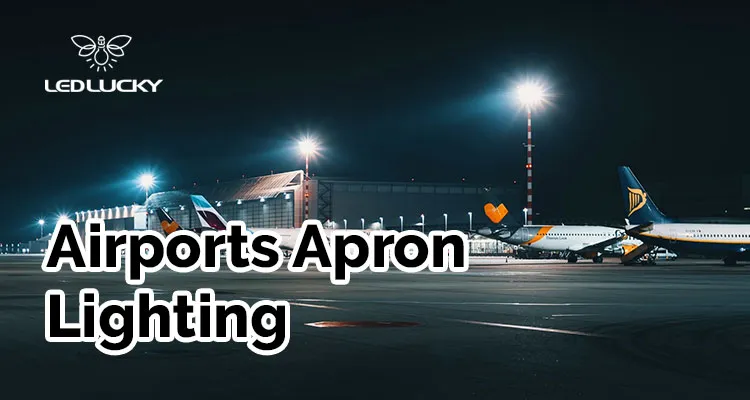 No modern airport is complete without apron lighting. It is integral to its successful functioning. By placing good apron lighting, it becomes easy for apron maneuverings for pilots. Besides, when there is sufficient apron lighting, it helps improve the speed of maneuverings and increases safety. There is a need for high-quality maintenance to ensure comfortable vision conditions. A great thing about airport apron lighting is that it offers a higher standard as compared to industrial lighting. By installing airport apron lighting, clarity of division in larger spaces is achieved.
1. What Is Holding An Apron At Airport?
For those of you that do not know what is holding an apron at the airport, the holding bays help provide support. As aprons are a portion of the airport which tend to be paved and located right in front of the unloading and loading area, the parking, and terminal building. Another name for holding bays is holding aprons. They can be found in busy airports at the runway. They are used for holding the plane before it takes off. The following types of aprons are available.
General Aviation Apron
Itinerant Apron
Service and Hanger Apron
Parking Apron
Caro Apron
Terminal Apron
Other Ground Service Apron
2. LED Airport Apron Lighting Standards
When it comes to airport apron lighting, the first thing that you need to know is about the lighting standards. As LEDLUCKY is a professional manufacturer of LED apron lighting, the company produces complete apron lighting systems for facility owners. Generally, LED airport apron lighting standards include the following.
To provide assistance to the pilot to take the aircraft in and out of the desired parking position.
To ensure that there is suitable lighting for the embarkation of passengers and their subsequent debarkation as well as loading of cargo and it's unloading. It also includes refueling and other apron services.
To maintain airport security.
Now, it is crucial that you pay attention to ensure that a proper apron lighting environment has been created. Keep in mind that the International Civil Aviation Organization (ICAO) suggests that the average horizontal illumination of the apron should be more than 20 lx to maintain acceptable visibility.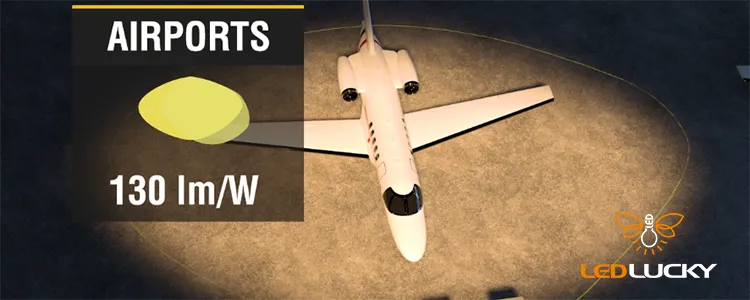 3. Factors to Consider of LED Airport Apron Lighting
When in the market for LED airport apron lighting, there are certain factors that need to be considered. These are mentioned below.
3.1 Reduced Energy Consumption
One of the most important factors that you need to consider when looking for LED airport apron lighting is a reduction in energy consumption. Since lighting costs tend to be very high in an airport, it is a factor that you cannot afford to overlook. Always focus on an LED option that guarantees a reduction in energy consumption. Thus, you will be able to benefit from reduced electricity bills and will enjoy energy savings.
3.2 Instant Start – No Warming Up
Another factor that needs to be considered in LED airport apron lighting is an instant start. There should be no warming up. Instead, the lighting should instantly start. You should not need to wait for the apron lighting to start. Instant start means that as soon as you switch on the apron lighting, it should instantly illuminate the entire area of the airport where the lighting has been installed.
High color rendering is a factor that many people end up forgetting about. However, its importance cannot be stressed enough. To avoid any accidents at the airport and to maintain the highest level of security, you need to make sure that the LED apron lighting meets the high color rendering requirements as set out by the International Civil Aviation Organization (ICAO).
LED airport apron lighting should not require much maintenance. Only purchase lighting from a company such as LEDLUCKY to ensure that the lighting requires reduced maintenance. When there is a need for reduced maintenance, you will enjoy extra cost savings which would only help boost your profit margin.
To get the best-LED airport lighting, you have to make sure that it offers long life. Learn about how long the lighting lasts before making a purchase. Choose a brand like LEDLUCKY that claims to offer airport lighting that boasts a long life. When the lighting has a long life, you will not need to worry about constant replacements. This would allow you to save money in the long run.
3.6 Smart Controls Integration
We live in technologically advanced time. It has resulted in plenty of smart control options. This is why it makes sense to consider getting airport apron lighting that offers smart controls integration.
Finally, you should also learn more about the glare of the airport apron lighting. Aim for low glare conditions that operate on an asymmetric optic lens system.
4. Key Benefits of LEDLUCKY High Mast lights for Airport Apron
LEDLUCKY provides LED high mast lights for airport apron lighting. The LED high mast lights offer the following benefits.
4.1 Superior Luminaire Efficacy
One of the key benefits of LEDLUCKY airport apron lights is superior luminaire efficacy. From the moment you install the lights, you will notice the difference in illumination. The company has done a remarkable job in designing the best airport apron lighting that will illuminate the entire airport area in no time. The superior luminaire efficiency ensures that no spot is left in the dark. Thus, you will never need to worry about the airport not being perfectly lighted.
4.2 High Color Rendering Index
Enhance the color rendering of the airport with LEDLUCKY lights. Their lights provide a high color rendering index. When it comes to selecting airport apron lighting, LEDLUCKY does not disappoint in the very least. Its high color rendering index makes it possible for everyone to see everything perfectly no matter how dark it might. When you install the lighting, you will be blown away by the colors of the surroundings. The airport will look marvelous whenever you switch on the lights.
4.3 Cooling System/ Superb Heat Management
Forget worrying about the airport apron lighting with LEDLUCKY lights as it has a cooling system/ superb heat management. The lights are designed to remain cool regardless of how hot the weather might be. They function in such a way that less light pollution is produced so that the surrounding areas can also remain cool. Hence, you would also benefit from lower electricity costs and it would not cost a lot to keep the airport cool at all times.
4.4 Demountable Driver Compartment / Easy To Install
Take advantage of LEDLUCKY lights that are easy to install and even have a demountable driver compartment. The demountable driver compartment makes it possible for the lights to be inserted and fully installed in record time. Moreover, if the lights stop working after a long time, you can easily remove them and install new ones as the demountable driver compartment is made for quick use.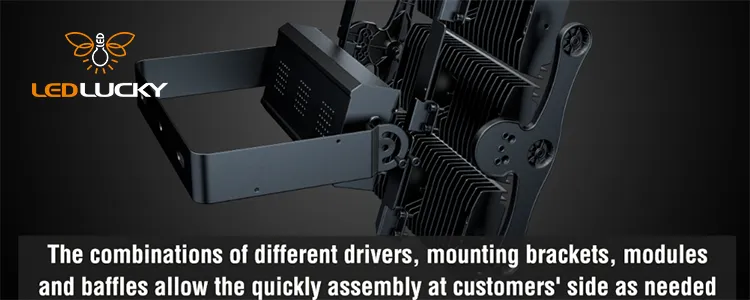 4.5 Low Maintenance Costs
Cut down on maintenance costs with LEDLUCKY lights. They require minimal maintenance and are extremely durable. You will never regret purchasing the lights. When you install the lights, you will barely incur any additional maintenance expenses. This makes the lights an incredible investment.
4.6 Visor to Trim the Excess Upward Light / Reduce Light Pollution & Glare Control
LEDLUCKY lights allow you to utilize the visor to trim excess upward light and reduce light pollution as well as glare control. The upward light trimming helps ensure that the airport is perfectly lit and no light is wasted.
4.7 Allows Mounting on Existing Masts
The lights can be easily mounted onto existing masts. If there are any existing masts, you can simply mount the lights on them.
4.8 IP66 Ingress Protection
When you get LEDLUCKY lights, they offer IP66 ingress protection. This means that the lights will be protected from dust and the weather in general. It clearly shows that the lights are made for the outdoors.
A great thing about LEDLUCKY lights is that they provide smart control options. Maximize the efficiency of the lights by using the smart control options. You will be surprised by what they can do for you.
LEDLUCKY is a company that is committed to giving back to its customers. It provides a 5 years warranty on purchases. If you experience any technical issues within the 5 year period, you can contact the company for assistance or even a replacement free of charge. It does not get better than this.
Companies can benefit from LEDLUCKY's free dialux design option. Being a market leader, LEDLUCKY can easily manufacture the lights in the desired design. Get the ultimate design made for the airport for free.
Once you have gone over this guide on airport apron lighting, you will know about what to look for. Make sure to purchase your lighting from a reputable brand like LEDLUCKY.
See our LED Airport Lights: ARENASHARP E LED STADIUM LIGHT
Thanks for reading. We also provide other LED lights as while. Click the below link to view if you are interested.
Don't hesitate to tell us about your needs