The Ultimate LED Beam Angle Guide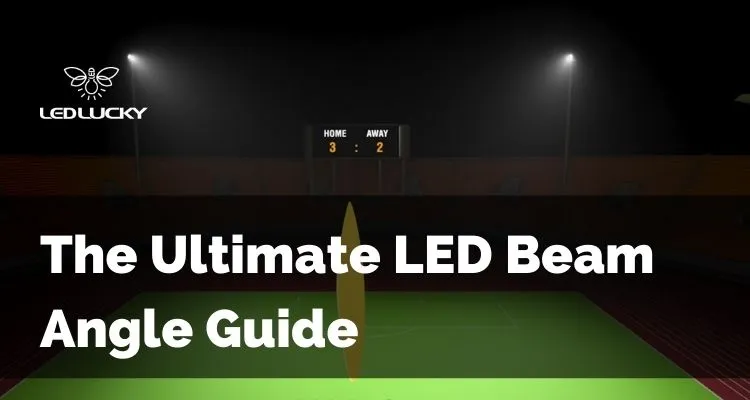 If you have ever walked into a building that is dimly lit, chances are that ended up bumping or falling down. In such a situation, you are bound to feel frustrated about what to do. This is where beam angles come into place. They are more important than you think. This ultimate guide to LED beam angles has been prepared to help provide you with all the information you need. By the time you finish reading it, you will know everything there is to know about LED beam angles.
1. What Is A Beam Angle of LED Lights?
Before we dive deep into the topic, it is important that you know the beam angle of LED lights is. In the simplest of words, it is the angle of the light through which the light spreads from the ceiling or wherever it is placed when you switch it on. Another term used in place of beam angle is beam spread. Both terms refer to the same thing. The beam angle of the LED lights affects visibility and ambiance.
1.1 Beam Angle and Distance
When looking at the beam angle, the first thing that you need to know more about is distance. The beam angle is responsible for just how big the light appears. Distance between the illuminated object and the light source influences the overall luminance. For instance, if the LED spotlight is that far from the wall, a small dotted light circle would become visible. However, if we take the spotlight further back, the light circuit would appear much larger.
1.2 Beam Angle and Brightness
Similar to how there is a relationship between the beam angle and distance, brightness is also impacted by the placement of the beam angle. When we look at two LED lights that produce 600 lumens, they should offer the same brightness. But, that is not the case f the beam angles of both the lights is different. Thus, perceived brightness would not be the same.

An LED light that has a beam angle of 40 degrees would illuminate a wider area, unlike an LED light that has a 15 degrees beam angle. However, the larger the illuminated area the more darkness there would be. It is due to this reason that the beam angle needs to be selected based on the required level of brightness.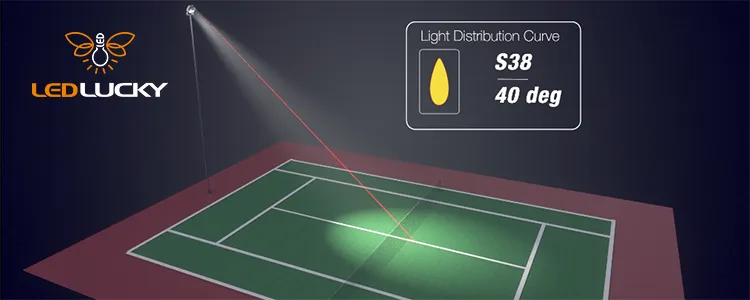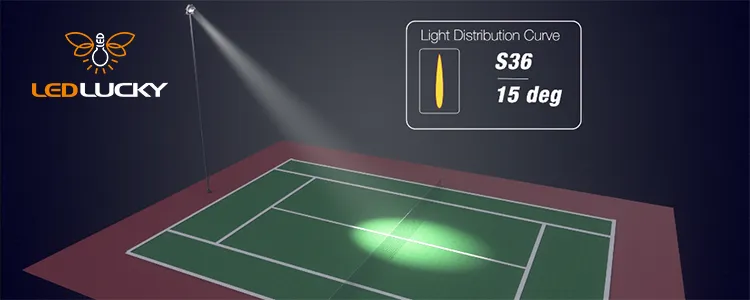 1.3 Beam Angle and Lumens
Going further into what we mentioned above, the brightness of the LED is described in lumens. When the desired ambiance is not achieved, we end up saying that the bulb is simply not bright enough. However, that is not the case all the time. The beam angle will change how the lumens are distributed. This is why you need to make sure that the right angle that is appropriate for the number of lumens produced is selected.
2. What Are The Different Beam Angle Types?
There are different types of beam angles as mentioned below.
Basic Lighting: The most common beam angle type is for basic lighting. It consists of 120 degrees. However, it is also available in 90 degrees. Generally, most rooms have basic lighting.
Accent Lighting: When it comes to highlighting some parts of the room, accent lighting beam angles are used. The lighting is used to highlight a colored wall or even a sitting area. It is important that the beam angle is selected on an individual basis.
Decorative Lighting: To highlight objects in a room, decorative lighting beam angles are used. It could be a picture or an art piece.
3. Meaning of a Beam Angle of 15°, 60° or 90° Degrees
To help you better understand the meaning of each beam angle, we share the table below. It will provide you with insight into different beam angles and ceiling heights. The ceiling height has been taken as 8 feet in the table.
Comparison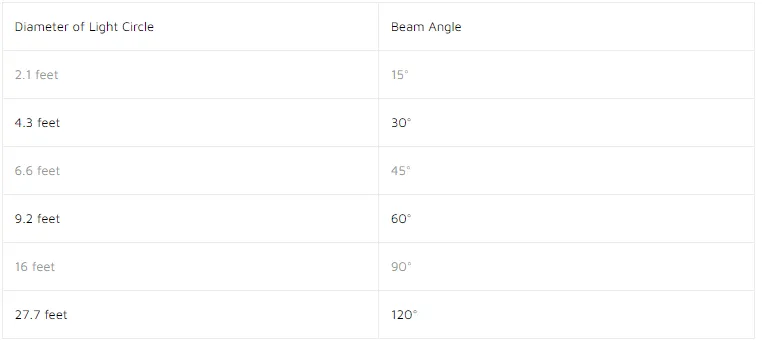 4. Considerations for a Beam Angle
When in the market for beam angles, you should always go for a reliable brand such as LEDLUCKY. The following considerations will help you pick out the right beam angle for LED lights.
The first thing that needs to be considered is the building type. You have to consider the building type before you get lighting fixtures. Knowledge of the building type will help you decide the number of fixtures that will be required along with the beam angle. Since the height of the ceiling influences the effect of the beam angle, you will need to consider the building type. For instance, warehouses have high ceilings which means that they require a different LED beam angle as compared to a retail outlet.
Another consideration which you cannot make a decision without is the number of LED lights that are required. A building that covers 50,000 square foot will require more LED lights than one that covers 10,000 square foot. In addition to this, you need to consider the desired lumens. The standard for commercial space is 70-foot candles for each square foot. If you do not know what a foot-candle is, it refers to the unit of illumination which equals one lumen. Now, you also need to consider the lighting layout design plan to ensure that the required lighting needs are met. Since some areas require more lighting than others.
4.3 Height of Ceilings and Light Fixtures
As we had discussed earlier, the height of the ceilings and the light fixtures influences the beam angle required. The beam angles should always overlap. Otherwise, there would be areas that are dim and dark. Through the overlapping of beam angles, there would be sufficient lighting in the space to prevent any injury. Most ceilings tend to have a standard height of about 7.86 to 8.75 feet. Thus, a wider beam angle would be required. Go for 60 degrees or more. On the other hand, if the ceiling height is greater than 8.76 feet, you would need to opt for a narrower beam angle. In such a case, you would need to go with a beam angle of 45 degrees or under.
In both cases, your goal is to provide sufficient lighting based on the height of the ceiling. It will help make sure that the workspace is bright enough for everyone to carry on with their work. When working in an industrial undertaking, high ceilings are more common which means that you would need to go with a more narrow light.
There are different LED light bulb types as mentioned below.
Task-Oriented Lighting: This type of bulb is used where high productivity is a requirement. Thus, the area would need to be well lit.
Accent Lighting: Another type of lighting is accent lighting. It is used for highlighting an object or space.
General Lighting: This LED bulb type aims to make one feel comfortable while working in space.
5. Which Beam Angle for Which Location?
A different beam angle is required for different locations as discussed below.
5.1 Beam Angle for LED Stadium Light
Stadiums tend to be huge. This is why they require under 45 degrees beam angles. LEDLUCKY's Alpha stadium light has a beam angle of 8 degrees / 20 degrees / 40 degrees / 60 degrees / polarized 50 degrees.
5.2 Beam Angle for LED High Bay Light
LED high bay lights are used in workshops and warehouses. The installation height is between 8-20 meters. Therefore, LEDLUCKY's high bay lights have beam angles of 60 degrees and 90 degrees.
5.3 Beam Angle for LED Flood Light
LED floodlights have a wide range of uses. Therefore, a variety of beam angles are required to meet the requirements. LEDLUCKY's floodlights have 30 degrees/60 degrees/90 degrees/110 degrees/80*150 degrees/TYPE II-S beam angles.
5.4 Beam Angle for LED Street Light
LED Street lights help provide us with sufficient lighting at night to ensure that there is no accident or injury. LEDLUCKY provides a Type II beam angle.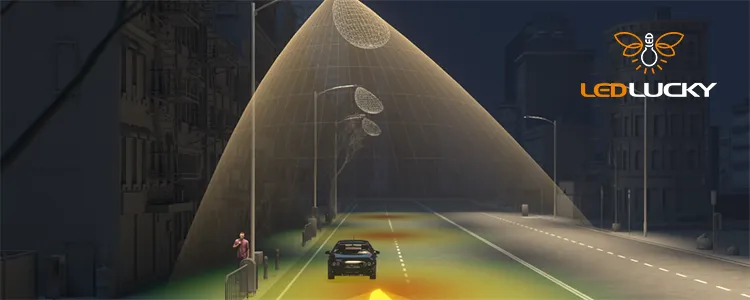 5.5 Beam Angle for LED Panel Light
Finally, when it comes to panel lights, you can go with 120 degrees. They are commonly used to provide basic lighting in corridors and the living room. It is worth mentioning that LEDLUCKY's UGR<13 panel light provides a beam angle of 70 degrees.
6. Beam Angle Online Calculator
The internet is filled with beam angle online calculators. You can calculate the beam angle for your building by clicking this link.
Once you have gone over this post, you will know everything about LED beam angles. Make sure to get your LED lights from a reputable company such as LEDLUCKY. They provide some of the best-LED lights in the market that offer a ton of benefits. Now, you can illuminate your space with no hassle. You can also contact LEDLUCKY if you have any queries as the company will be happy to help.
Follow the tips and advice mentioned to get the right LED beam angle. We believe that they should be sufficient for you to make a well-informed decision. Hence, you have nothing to worry about as you will definitely make the right decision.
Don't hesitate to tell us about your needs