The Best LED Warehouse Lighting: An Ultimate Guide on LED High Bay Lamps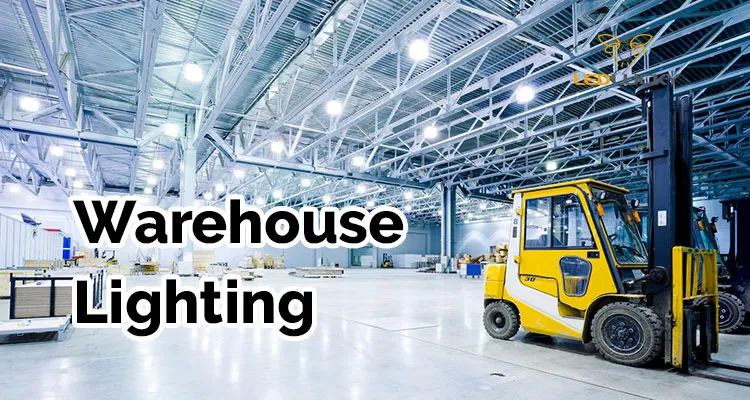 Are you looking for the best high bay led light for an industrial warehouse lighting solution? Do you want a one-time lighting solution to all your warehouse needs? Then LEDLUCKY is just the brand for you. Owning an enormous warehouse might seem profitable, but paying those expensive electricity bills is a different story. High commercial energy is consumed by the high wattage fixtures at most warehouses. These metal halide fixtures consume a lot of energy and that means high bills.
However, there is an easy way to cut those electricity bills by about 75 percent. LED lights are the answer to all your lighting issues. High bay led lights is the ultimate industrial warehouse lighting solution. Warehouse owners have realized the importance of LED lights and are investing heavily to ensure that they have optimal lighting. Unlike high-pressure sodium or metal halide lights that consume more electricity, LED lights use minimum energy and provide maximum lighting. If you are looking for the best warehouse lighting provider, then LEDLUCKY is the name that you should know. It manufactures all types of LED lights such as LED high bay lights that require lower energy and help decrease those energy bills by more than half. LEDLUCKY provides durable LED lights that are ideal for a warehouse as they improve logistic efficiency and workplace safety.
Benefits of Choosing LEDLUCKY LED Industrial Warehouse High Bay Light
LEDLUCKY is your answer to just about every warehouse lighting problem. Only the best LED high bay lights and other types of lights are provided by LEDLUCKY. The company is situated in Shenzhen, China which is the hub of all things technology. This is why you can expect to get the highest quality LED lights.
The reason why LEDLUCKY has succeeded in capturing the LED lights market is due to the fact that it is BSCI approved and ISO 9001 certified. It has an unparalleled advantage in terms of technical prowess and has managed to create a highly efficient heat dissipation system. When it comes to indoor LED lighting, LEDLUCKY has created some of the best electro-optical conversion systems that are used as a highly efficient lighting solution. Moreover, the company has also researched explosion-proof, anti-corrosion, and waterproof technologies to ensure that excellent outdoor lighting solutions are provided. Furthermore, the lighting products are ROHS compliant and CE certified. There are many benefits to choosing LEDLUCKY. Some of the main benefits are mentioned below.
1. Meet All Brightness Needs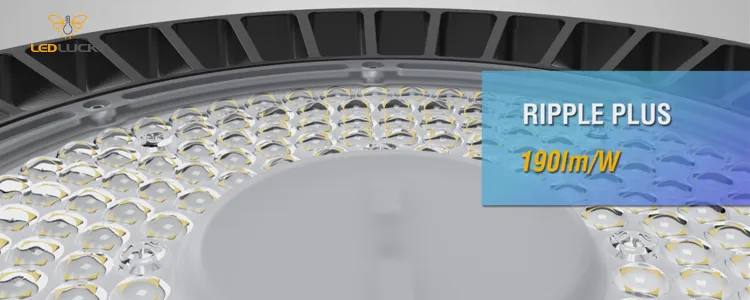 When you choose LED lights from LEDLUCKY, you can be rest assured that they will meet all your brightness needs. No matter what your needs are you can always expect to find the perfect LED lights that suit your needs at LEDLUCKY as the company boasts some of the best-LED options out there. Luminous efficacy is guaranteed. It means that you get the highest efficiency. More lumens are generated for each watt. Moreover, the LED lights are of high quality and have an impressive efficacy rating. The company will help ensure that you select the right efficiency.
2.High Lighting Uniformity
Lighting uniformity is vital for a warehouse to be productive. Most people tend to overlook the importance of lighting uniformity. Just think about a space that has bright and dim spots. It would make employees feel uncomfortable and would also decrease their productivity level.
Moreover, improper lighting would result in more industrial accidents which could mean potential liability claims. However, when you purchase an LED light from LEDLUCKY, high lighting uniformity is guaranteed. The latest technology is used by the company to provide lights that offer unparalleled lighting uniformity unlike any other manufacturer out there.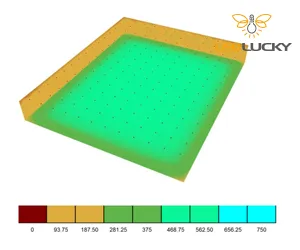 3.Ideal Light Distribution Type for Warehouse
Warehouse owners should know that the LED lights provided by LEDLUCKY have an optimal beam angle. Whether you want a wide beam angle or a narrow one, you will be able to find it. Keep in mind that a wide beam angle offers softer light meaning it is able to provide light to different parts of the space and not just a single area. On the other hand, a narrow beam angle is better for a small area as it provides concentrated light making it perfect for accent lighting. Thus, the light produced is more focused and intense. Choose from LED warehouse lighting that have are available in a wide range of beam angles with LEDLUCKY.
One of the main reasons why people choose LEDLUCKY when they consider buying LED lights is because of the fact that the company offers free lighting design. So, you can get the design that suits your needs. The company guides its clients throughout the production process. From the moment clients ask for initial designs to after-sale services, you can rest assured that LEDLUCKY will take care of all your needs. The company employs attentive team-players who are provided with continuous training in order to ensure that they meet the demands of the industry and are able to keep clients satisfied. You can expect a normal staff member to have at least 6 years of experience in the industry.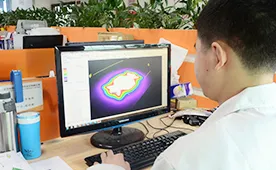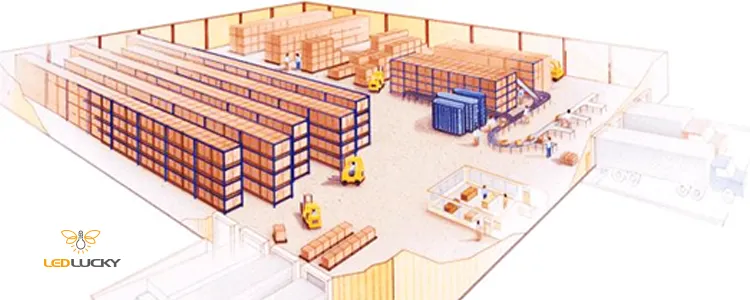 ControlPackⓇ System ensures that high-quality lighting solutions are provided to clients. The standard of quality control is high. Hence, the LED lights that you purchase will always be of superior quality. The control system allows facility managers to take the LED lights to the next level in terms of cost savings and more. Even if you use the best energy-efficient lighting, it would not be that efficient if lights continue to keep unoccupied areas fully illuminated. This is where the control system comes into place. It minimizes energy wastage in unoccupied areas and ensures that warehouse owners get to take advantage of maximum energy savings. Some of the following features in the control system allow you to maximize cost reductions.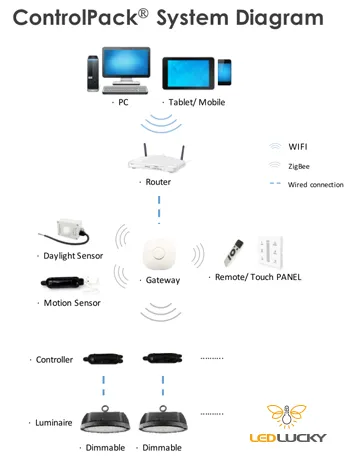 • Occupancy Sensors: The occupancy sensors efficiently detect motion and only stay switched on if there is motion. If there is no motion, then the lights would automatically switch off to save electricity.
• Daylight Harvesting: In order to make the most of the lighting requirements, the light levels are read using photocells which are optical sensors. Thus, the light level is controlled automatically. This means that if there is plenty of lighting during the day, then only some lighting would be provided.
• Timers: These are used to time-schedule when the lights should be switched on and off.
6.Light Quality: Color Rendering Index
The LED lights produced by LEDLUCKY are in line with the Color Rendering Index. The index is used for defining the color of light and is used for indicating just how well the light source reveals the colors of objects in the illuminated area as compared to natural sunlight which is the best light source. The light color is the most important factor which you need to consider when purchasing an LED industrial high bay light as it impacts warehouse application and employee productivity. LEDLUCKY provides LED lights which have the perfect light color. It ensures contrast and clarity at the warehouse so that workers can continue working. Furthermore, the majority of the LED fixtures at LEDLUCKY have at least a CRI of 70 to 85. Moreover, clients can always place a special order and the company will design LED lights according to the requested CRI.
Besides just the light quality, the ideal amount of brightness is offered by the LED lights. Most of the LED fixtures provide about 15,000 lumens output which makes them perfect for high ceiling areas of 15 feet or more. There are options for Correlated Color Temperature as well depending on what you are looking for. Being ROHS certified means that the output of the lights does not contain any type of hazardous element. The lights instantly switch on and there is no noise when they are running. 4000K to 5000K fixtures are also offered as they are ideal for indoor lighting. They provide a high color temperature.
7.Rugged Construction Which Would Last For Years to Come
The LED lights are mostly made of die-cast aluminum. This makes them more durable and shatterproof as compared to metal halide fixtures. The aluminum component ensures that the lights have better resistance and remain cool. Moreover, you can easily expect over 50,000 hours of operational life when you get a LEDLUCKY fixture. This means that the lifespan of the lights would be at least three times more than your regular high bay lights. Furthermore, they do not have any high maintenance costs.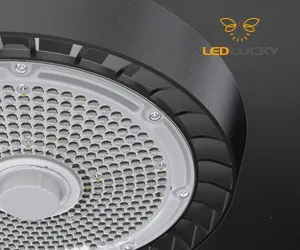 8.Reduce Energy Costs and Maintenance Costs
One of the main reasons why people switch to LEDLUCKY lights and fixtures is because the products help reduce energy costs and maintenance costs. Unlike metal halide fixtures which cause high energy consumption, LED lights only require low energy. They are the perfect replacement for the conventional high wattage fixtures such as metal halide. The 100W and 150W LED lights by LEDLUCKY will replace the traditional 350W fixtures. This will lead to enormous savings on commercial energy costs. Most of the warehouse lights offered by LEDLUCKY have L70 rating. They can easily last over 100,000 hours. This means there would be fewer replacements required. Thus, you can expect for the maintenance costs in your warehouse and factories to decrease significantly. Do not overlook this major cost-saving as you can use it for research and development.
1.The first thing that you need to do is make sure that the LED High Bay Lights have been carefully placed before you start mounting them.
2.Always make sure to switch off the power before you install any LED fixtures or other lights.
3.Finally, install the LED fixtures according to the instructions that are provided by LEDLUCKY. Moreover, if you have any questions, you can always contact LEDLUCKY.
When it comes to warehouse lighting, it is crucial to stay updated with the latest guidelines. By reading the above, you will have a better idea of the ideal warehouse lighting solution. LEDLUCKY is your answer to the best warehouse lighting solution. Reduce electricity costs significantly by installing LED lights.
See the LED Warehouse Lights: SAPPHIRE LED HIGH BAY LIGHT
Don't hesitate to tell us about your needs